"Never wrong, often early" will be a handy line for Davos Man and Davos Woman this year.
One year ago, delegates to the World Economic Forum in the Swiss ski resort tended to say the Federal Reserve would bide its time before raising interest rates and oil would soon rebound from the $55 a barrel it was then. Then this happened.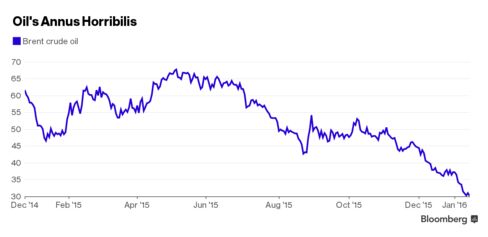 Terrorism mushrooming. Conflict spreading. Refugees fleeing. Europe limping. In 2016 the world is shaping up for a turbulent year, making the Davos staple of predicting the future more perilous than normal. Pro tip: If you make a forecast, never give a timeframe. Eventually you'll be right.
As generally expected in 2015 the Fed did indeed hold out, only delivering its first rate increase in nine years in December, delayed by a weak labor market and then worries about the global economy. By contrast, after an initial climb, oil began sliding in June to end the year at almost $35. And then below $30 in 2016.
The Fed won't increase rates "until late 2015 or the beginning of 2016 at the earliest," said Denis O'Brien, chairman of Hamilton, Bermuda-based Digicel Group Ltd., the largest telecommunications company in the Caribbean.
Correctly predicting how the Fed would be influenced by events abroad, Goldman Sachs Group Inc. President Gary Cohn said "what I am concerned about is the ability of the U.S. to raise rates with what's going on with the rest of the world."
Cohn gets extra prognostic points for correctly predicting the U.S. dollar would strengthen. Ray Dalio, founder of Bridgewater Associates Inc., similarly expected a "short squeeze" in the greenback.
Some proved to be a bit too optimistic. Morgan Stanley Chief Executive Officer James Gorman said he would "put good money on a rate hike this year" and that his personal expectation was for a shift in the second quarter. Not wrong, just early.
As for central banks elsewhere, UBS Group AG Chairman Axel Weber was right in saying euro-area inflation would remain well below the European Central Bank's target of just below 2 percent even with the adoption of quantitative easing.
The delegates were less successful in predicting oil. Sheikh Ahmed Bin Jassim Al Thani, the economy and commerce minister of Qatar, said oil should rise to $60 by the end of the year.
Former Russian Finance Miniser Alexei Kudrin said oil may average around $60 over the next two years. Abdalla El-Badri, the secretary general of the Organization of the Petroleum Exporting Countries, predicted oil would stabilize around $45 to $50 a barrel.
Hat tip to Michael Sabia, who runs Canada's second-biggest pension fund, who said the oil rout is "not a three-Month phenomenon." Some now say it's not a three-year phenomenon.
As for other forecasts, Viswanathan Shankar, head of Europe, Middle East, Africa and Americas for Standard Chartered Plc, declared CEO Peter Sands "is here for good." Sands departed in June, with Shankar also now elsewhere.
Before it's here, it's on the Bloomberg Terminal.
LEARN MORE