Merkel's Popularity Drops to Four-Year Low After Cologne Attacks
German public support for open-door refugee policy declines

Chancellor's Christian Democratic bloc slips two points
German Chancellor Angela Merkel's approval rating fell to the lowest in more than four years after mass sexual assaults in Cologne and other cities on New Year's Eve dimmed the public's view of her open-door refugee policy.
Merkel's popularity is at its lowest point since October 2011, when Europe was in turmoil over efforts to keep Greece in the euro area, according to a FG Wahlen poll commissioned by public broadcaster ZDF. Finance Minister Wolfgang Schaeuble, a member of Merkel's Christian Democratic Union, topped the list as Germany's most popular politician.
Merkel's Christian Democratic-led bloc slipped two percentage points from last month to 37 percent in the poll published Friday, while Alternative for Germany, or AfD, a party that opposes migration, climbed two points to 11 percent. The AfD, which was formed after the last national election in 2013, doesn't have seats in the German parliament.
Merkel faces pressure within her party bloc to take stronger measures to limit the inflow of asylum seekers after a record 1.1 million arrivals last year. Her approval rating remains above lows she reached during Europe's debt crisis in 2010 and 2011, from which she rebounded to win a third term in 2013.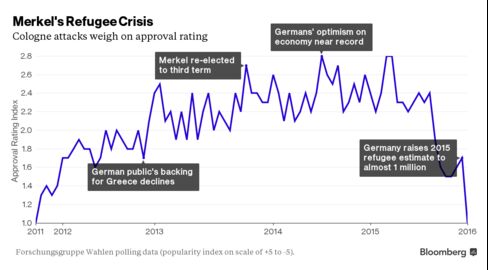 "I don't comment on polls," Steffen Seibert, Merkel's chief spokesman, told reporters in Berlin. "I've never done that and won't do so in the future."
Germany's welcome for asylum seekers has ebbed after the Cologne attacks, following which scores of women filed criminal complaints for sexual assault. Members of her own party are pushing the chancellor to take a tougher stance with controls on the German frontier to reduce the flow of migrants, something she has resisted.
Changing Attitudes
Following the Cologne assaults, 60 percent of poll respondents said that Germany can no longer shoulder the flood of refugees, up from 46 percent in December. Thirty-seven percent said the opposite, compared with 51 percent last month.
The portion of Germans with a negative view of Merkel's handling of the refugee crisis climbed seven points to 56 percent, while 39 percent support the chancellor. Thirty-three percent of those surveyed said the New Year's Eve reports changed their position; 66 percent said it didn't.
The Social Democrats, Merkel's junior coalition partner, were unchanged at 24 percent. The opposition Green Party remained at 10 percent. Both parties support Merkel's refugee policy. The anti-capitalist Left Party slipped a point to 8 percent.
The Jan. 12-14 poll of 1,203 people has a margin of error of about plus or minus three percentage points.
Before it's here, it's on the Bloomberg Terminal.
LEARN MORE