Emerging-Market Rout Worsens With China Bear Market; Zloty Sinks
Shanghai shares lose 3.6% on Friday as confidence evaporates

Polish currency plunges as S&P cuts country's credit rating
Emerging-market stocks posted a third straight weekly decline, slumping to the lowest since 2009 as Chinese equities fell into a bear market and oil's slide below $30 a barrel sapped energy producers. The zloty fell the most since 2011 as Standard & Poor's cut Poland's credit rating .
The Shanghai Composite Index decreased more than 20 percent from its December high as volatility in the yuan and a report that some banks have stopped accepting shares of smaller listed companies as collateral further eroded investor confidence in China's markets and economy. Gazprom PAO and Lukoil PJSC each fell at least 4.2 percent in Moscow. Nigerian equities retreated for a sixth day as Brent crude posted a 13 percent weekly decline. The zloty tumbled 2 percent against the euro.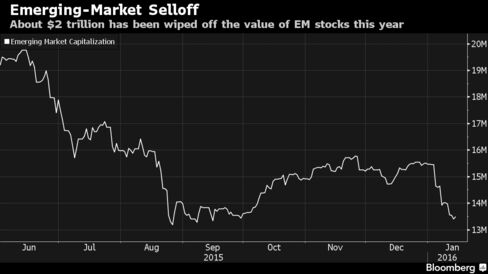 About $2 trillion has been shaved from emerging-market stock values amid a broader global rout this year on concern China's economic slowdown will deepen, forcing policy makers to seek a weaker yuan. The drop in oil added to the gloom, with analysts at Citibank predicting further declines as Iran moves closer to restoring exports.
"The market perception of China remains fragile and the pressures on emerging markets remain significant," said Guillaume Tresca, a strategist at Credit Agricole SA in Paris. "It is still not yet time for an EM turnaround as the uncertainties lingering ahead are still numerous."
No asset class has been spared the selloff this year, with the premium investors demand to hold emerging-market debt over U.S. Treasuries widening 12 basis points on Friday to 468, according to JPMorgan Chase & Co. Indexes, bringing the weekly increase to about 31 basis points.
Stocks
The MSCI Emerging Markets Index dropped 1.9 percent to 709.19, extending its decline this week to 4.2 percent. Developing-nation stocks trade, on average, at 10.3 times projected 12-month earnings, a 28 percent discount to advanced-country shares in the MSCI World Index, according to data compiled by Bloomberg.
The zloty weakened to 4.4815 per euro. S&P cut Poland's debt grade to BBB+, the third-lowest investment level, in the first rating move for the country since 2007, according to statement issued on Friday. The rating company warned that policies of the new government are imperiling the nation's institutions.
The Shanghai gauge retreated 3.6 percent, taking its weekly drop to 9 percent. The Hang Seng China Enterprises gauge declined 2.6 percent to a four-year low as Industrial and Commercial Bank of China Ltd. slumped. The Micex Index fell 4.3 percent in Moscow, bringing the weekly retreat to 8 percent, the most since May 2012 on a closing basis.
Brazil, Nigeria
The Ibovespa retreated 2.4 percent in Sao Paulo. Petroleo Brasileiro SA, the Brazilian state-run oil company, fell 9.1 percent, leading declines in commodity companies. The Nigerian Stock Exchange All Share Index fell 3 percent. Nigeria is Africa's largest oil producer.
All 10 industry groups in the developing-nations gauge declined this week, with energy shares down the most and telecommunications stocks declining the least. Taiwan Semiconductor Manufacturing Co. was among the biggest gainers, completing its best week since November, after the contract manufacturer of chips for Apple Inc. posted fourth-quarter profit that beat analysts' estimates.
An index tracking 20 emerging-market currencies depreciated 0.8 percent, extending a weekly decline to 0.8 percent. Russia's ruble followed oil prices lower, sliding 2 percent to 77.603 per dollar. Analysts at Royal Bank of Scotland Plc warned the currency of the world's largest energy exporter may weaken to 80 per dollar if oil continues its slide toward $26 a barrel.
Yuan Retreat
The South African rand, the Mexican peso and Brazil's real each weakened at least 1.6 percent.
The offshore yuan retreated 0.2 percent on Friday, paring a weekly advance to 1 percent. The People's Bank of China limited the currency's supply and forced a narrowing of its discount to the mainland rate.
The onshore spot rate rose 0.1 percent, paring its loss this year to 1.4 percent, as the monetary authority maintained steady fixings. The Hong Kong dollar narrowed 0.2 percent, to a four-year low of 7.793 versus the dollar.
Before it's here, it's on the Bloomberg Terminal.
LEARN MORE