Bond Traders See Even Two Fed Rate Hikes This Year as Optimistic
Derivatives market deviates further from central bank forecast

Probability of a March rate boost has plunged since December
Traders are betting that two U.S. interest-rate increases could be too many in 2016.
As a growth scare fuels turbulence in global markets, investors are cutting wagers on how high the Federal Reserve will raise its policy rate this year, going by derivatives prices. Traders expect the effective fed funds rate will rise to 0.70 percent in a year's time, implying one increase, according to data compiled by Bloomberg. Just 17 days ago, they were betting borrowing costs would rise to 0.93 percent, which would require the Fed to lift rates twice, assuming it raised its target range by 0.25 percentage point each time.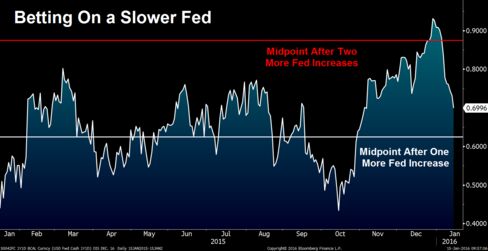 "It's just fear," said Gennadiy Goldberg, an interest-rate strategist with TD Securities in New York. "There's a growing expectation that the U.S. simply isn't strong enough to really fly above all of these global forces," such as plummeting energy prices and a slowdown in economic growth abroad.
The median pace of increases projected by Fed officials is quicker than the market's forecasts, and has been since before the central bank raised rates for the first time in nearly a decade on Dec. 16. The median forecast among Federal Open Market Committee members shows the effective rate rising to 1.375 percent, meaning policy makers expect to raise rates four times this year.
In the bond market's view, they won't even move half as many times. A Morgan Stanley Index, which uses derivatives linked to Eurodollars to gauge expectations for the Fed's pace, shows traders see 1.5 rate hikes in the next 12 months, the slowest indicated pace since 2013.
Mixed Signals
Signals from Fed officials this week have been mixed. New York Fed President William C. Dudley said Friday that the economic situation hasn't changed much since the latest Fed meeting.
On Monday, Atlanta Fed President Dennis Lockhart said the global selloff in stocks is unlikely to affect the U.S. economy, but added he could change his view if the turmoil persists. Boston Fed President Eric Rosengren said Wednesday there's a risk that weakening U.S. growth forecasts could prompt the central bank to take a slower approach. St. Louis Fed President James Bullard said the recent decline in oil prices may delay the return of inflation to the central bank's 2 percent target.
Going by futures prices, traders assign a 28 percent chance to a rate increase in March, based on the assumption that the effective fed funds rate will trade at the middle of the new FOMC target range after the next increase. That implied probability rose as high as 53 percent on Dec. 30. The next FOMC meeting is Jan. 26-27.
The drop in expectations for a March rate boost comes as oil prices this week fell to a 12-year low and a bond-market gauge of inflation expectations over the next decade, known as the 10-year break-even rate, fell to the lowest since September.
TD Securities' Goldberg said the market's outlook could still shift quickly.
"We're still quite a long way from March," he said. "I don't think anyone expects the Fed to hike in January, and then if things calm down the market could start pricing the hikes back in. A lot of things could change."
Before it's here, it's on the Bloomberg Terminal.
LEARN MORE