At Least 14 Dead After Ski Tour Bus Crashes in Nagano, Japan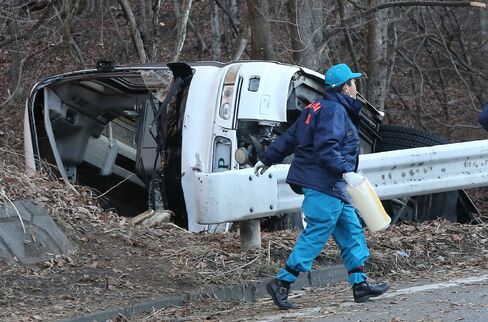 27 injured in Japan's worst bus accident since at least 2012

Suga says government working to determine cause of accident
At least 14 people were killed after a bus carrying skiers flipped over a guardrail after veering off a mountain road in central Japan. Twenty seven people, many in their 20s, were injured.
The bus carrying 41 people hit a guardrail and flipped over on the road in Karuizawa, Nagano prefecture, at around 2 a.m. Friday, dropping more than three meters into a ditch, according to a Saku City fire department official. Television images showed no snow, and Kyodo News reported there was no ice on the road at the time.
Chief Cabinet Secretary Yoshihide Suga said the government was working to determine the cause of the accident and would implement safety measures based on its findings. The crash is the worst bus accident in Japan since at least 2012, when seven people died and 39 were injured in a collision on the Kanto-Kanazawa highway in central Japan.
The bus, run by Tokyo-based budget operator Keyth Tour, was traveling from the capital, to ski resorts in the mountainous prefecture. The dead included both drivers, according to local police.
In televised comments, Keyth Tour President Mankichi Fukuda, 38, apologized to the victims, but blamed the bus operator for the accident and said Keyth would continue operations from Friday evening. "We'll take responsibility with sensitivity in reaching out to the families," he told reporters assembled outside his office in Shibuya ward. The company specializes in ski tours.
The transport ministry said is searching the premises of the bus operator, a Tokyo-based company called ESP, later Friday. Two days ago, the ministry penalized the company for reasons including insufficient monitoring of its drivers' health, stopping it from running one bus service.
"After I got to sleep around 1 a.m., there was a thud, the bus suddenly wobbled and I remember banging into my friend on my left," a 20-year-old male college student said in comments carried on state broadcaster NHK. "The next thing I knew I was outside the bus and I have no idea how I got there."
Before it's here, it's on the Bloomberg Terminal.
LEARN MORE