Oil-Sands Slump Doesn't Feel So Bad for Canada Maintenance Crews
Producers will spend more on operations than new construction

Aecon, North American, Stuart Olson may benefit from trend
The companies that clean the boilers, grease the machinery and tighten the bolts are skirting the carnage in Canada's energy patch.
Even as crude trades at its lowest in 12 years and companies slash investment on new projects, spending on existing oil sands operations and maintenance is expected to rise. Last year was the first since 2009 that producers spent more on sustaining and maintaining projects than building new ones, a trend that will continue "for the foreseeable future," according to Bob Collins, an economist at BuildForce Canada, an Ottawa-based industry group.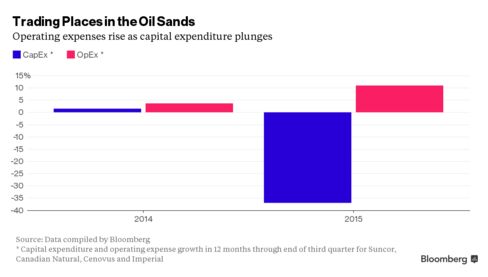 Canadian companies including Toronto-based Aecon Group Inc., Edmonton-based North American Energy Partners Inc. and Calgary-based Stuart Olson Inc. are poised to benefit from the trend, analysts said. Canadian units of Chicago Bridge and Iron Co.and KBR Inc. may also gain. Each of them is involved in operations in the oil sands.
"Maintenance and repair is going to be a big part of capital spending going forward," Frederic Bastien, a Vancouver-based analyst at Raymond James Financial Inc. said in a phone interview Jan. 4.
Operating Expenses
Four of the largest Canadian oil sands producers, including Suncor Energy Inc., Imperial Oil Ltd., Canadian Natural Resources Ltd. and Cenovus Energy Inc. raised operating expenses an average 11 percent in the year ended September even as crude lost half its value, data compiled by Bloomberg show. They cut capital expenditure 37 percent in the same period.
Energy companies are planning a "very strong" maintenance season this coming spring with about 10,000 workers needed in the oil sands, BuildForce Canada's Collins said in a Jan. 8. interview. That would be a rare bright spot in a sector that's seen 40,000 job cuts nationwide.
Suncor said in November it plans to shut an upgrader for repairs and perform "major maintenance" on its Firebag oil-sands site. Royal Dutch Shell Plc and Nexen Energy Ulc are also planning work this year on upgraders and mines, people familiar with the work said in September and December. Tara Lemay, a Shell spokeswoman, declined to comment Wednesday. Nexen didn't return a phone call seeking comment.
Below $30
U.S. crude futures fell below $30 on Tuesday for the first time since 2003, while heavy Canadian crude is the world's cheapest, trading under $17 a barrel. The Standard & Poor's/TSX Composite Energy index of 55 stocks has plunged 27 percent over the past 12 months. Crude futures were up 2.1 percent to $31.13 a barrel at 11:20 a.m. in New York Thursday.
Horton CB&I Ltd., a unit of Chicago Bridge, is involved in repairing Syncrude Canada Ltd.'s upgrader near Fort McMurray. The company said in July it was awarded a $60 million maintenance contract in the oil sands by a "major energy company" that it didn't identify. Chicago Bridge shares have fallen 9 percent in the past year. They were down 3 percent to $34.78.
Aecon, a construction and infrastructure company, signed a five-year mining service agreement with an oil-sands producer last year, Chief Financial Officer David Smales said in a November conference call, not identifying the client. Aecon shares have gained 34 percent in the past year to C$13.36 with 14 analysts giving it an average 12 month target price of C$17.38, data compiled by Bloomberg show. Nicole Court, Aecon corporate affairs manager, declined to comment in an e-mail.
Improving Operations
"There is a lot of investment in current operations," Joseph Lambert, chief operating officer of North American Energy Partners, said in a phone interview Jan. 5. Companies want "more bang for their buck."
North American Energy earns about 75 percent of its revenue from recurring services in the oil sands, including the transport of dirt left over after bitumen has been removed in mines, Lambert said. The shares are down 31 percent in the past year to C$2.46.
Many companies poised to benefit from maintenance work will still be hurt from the slowdown in new construction. Stuart Olson is a case in point, said Maxim Sytchev, a Toronto-based analyst at Dundee Securities Corp. He cut his recommendation for the stock to neutral in November after third-quarter revenue of $281.7 million was 12 percent below estimates, according to data compiled by Bloomberg.
"They do a lot of turnaround work but, unfortunately, the rest of the business is falling off the cliff right now," Sytchev said.
New Contract
Stuart Olson is "very well positioned" to benefit from growing maintenance work in the oil sands, Chief Executive Officer David LeMay said in a Nov. 12 conference call. The company didn't return requests for comment. It renewed a C$90 million master-service agreement with an oil-sands company in the third quarter that it didn't identify. The stock has fallen 17 percent in the past year and traded at C$5.40.
Companies building new oil sands facilities "are going to get hit," Michael Kay, Bloomberg Intelligence analyst, said by phone. "Those involved in the day to day operations, they have a little more defense in this."
Before it's here, it's on the Bloomberg Terminal.
LEARN MORE