MUFG to Buy $773 Million Stake in Philippines' Security Bank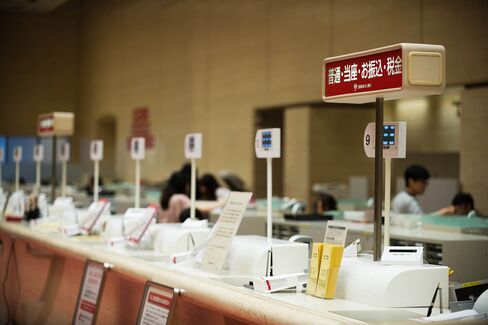 Biggest foreign investment in Philippines financial firm

Japan's MUFG to get 20% stake as it deepens Asia expansion
Mitsubishi UFJ Financial Group Inc., Japan's biggest bank, agreed to buy a 20 percent stake in Philippine lender Security Bank Corp. for 36.9 billion pesos ($773 million) as it deepens its expansion in Southeast Asia.
Security Bank accepted MUFG's offer to buy 150.7 million newly issued common shares at 245 pesos each and 200 million preferred shares at 0.1 peso apiece, the Manila-based bank said in a filing Thursday. That represents an 81 percent premium on Security Bank's Wednesday closing price of 135 pesos.
The deal will be the largest equity investment in a Philippine financial institution by a foreign lender, allowing Security Bank to accelerate its growth strategy and expand its branch network, the Manila-based company said. Japan's biggest lenders have expressed interest in investing in the Philippines after the country loosened its rules on foreign bank ownership in 2014. The nation's central bank said after the announcement that it welcomes the entry of foreign bank investments.
"Security Bank will benefit from the deal by having a bigger war chest to execute its strategy," Charles William Ang, an analyst at COL Financial Group Inc., said by telephone. "The deal is also a sign that foreigners are still very bullish about our banking industry, which remains under-penetrated. There are more opportunities for growth and profit compared with Japan."
'Right Price'
Ang said the transaction amount reflects the large size of the stake. MUFG is paying a 78 percent premium to Security Bank's average price over the past month, the fourth highest among all bank acquisitions in Southeast Asia, according to data compiled by Bloomberg. The price of 245 pesos a share is 2.8 times book value, the data show.
"People say that it's expensive, but we believe this is the right price," Go Watanabe, chief executive officer for Asia-Oceania at MUFG's main lending unit, said at a briefing in Manila. "We believe this price is fair, calculating the intrinsic or future value of the bank."
Shares of Security Bank climbed 6.7 percent, the most since June 2013, to 144 pesos. MUFG dropped 2.4 percent in Tokyo as Asian equities resumed their New Year tumble.
Second Biggest
MUFG is comfortable with a 20 percent stake, Watanabe said. The investment will make its Bank of Tokyo-Mitsubishi UFJ Ltd. unit the second-biggest shareholder of Security Bank, behind the Dy family. The deal is expected to close in the middle of the year, and MUFG will appoint two directors to Security Bank's board, according to the statement.
Security Bank will target 500 branches by 2020 from the current 262, the company's President Alfonso Salcedo told reporters. The investment will allow it to tap new markets through MUFG's relationships with Japanese companies and its global network, according to the statement. Security Bank's operations range from retail banking to brokerage services and leasing, its website shows.
Investments by foreign lenders "further reinforce bank capitalization, introduce global best practices and know-how and expand markets," Bangko Sentral ng Pilpinas Governor Amando Tetangco said in a mobile-phone message. "These also promote more job-creating foreign direct investments."
Indonesia and India remain missing parts in MUFG's expansion in Asia, Watanabe said. The financial group has been expanding in the region as a declining population and near record-low interest rates constrain growth at home.
Thailand, Vietnam
It was among 12 firms that expressed interest in buying United Coconut Planters Bank from the Philippine government, people with knowledge of the matter said last June. MUFG owns 77 percent of Thailand's Bank of Ayudhya and it bought a 20 percent stake in state-owned Vietnamese lender VietinBank in 2013.
Sumitomo Mitsui Financial Group Inc., Japan's second-biggest lender by market value, was the first foreign lender to get a license to operate in the Philippines under a 2014 law allowing full entry of overseas banks. Five more lenders have since received approval, President Benigno Aquino said Tuesday at the opening ceremony of Sumitomo Mitsui's first branch in the Southeast Asian nation.
Japan's Mizuho Financial Group Inc. ended talks to buy San Miguel Corp.'s controlling stake in Philippine lender Bank of Commerce, people with knowledge of the matter said in October.
Before it's here, it's on the Bloomberg Terminal.
LEARN MORE