Here's How Debt Chiefs Deal With QE's Non-Existent Bond Scarcity
Off-the-run bonds will preserve liquidity along curve: AFT

Reopening older bonds to boost `diversity of supply': Rabobank
Debt agencies in the euro region are taking steps to solve a problem policy makers deny exists.
While officials from the European Central Bank say monthly purchases of about 1 percent of the bonds outstanding haven't constricted the market, sales of "off-the-run" securities by some of the region's biggest issuers argue to the contrary.
France's AFT, which boosted the proportion of sales of such non-benchmark securities to 33 percent last year, the most since 2011, said reopenings of the less-traded debt help "preserve liquidity along the entire curve." Germany plans to sell more of an off-the-run July 2044 security this year, the Finance Agency said last month.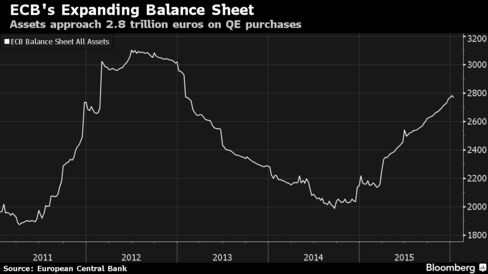 "The longer QE goes on, the more that the distortion impact can be visible, and you can tackle that through these off-the-run issuance," said David Schnautz, a director of rates strategy at Commerzbank AG, which acts as a primary dealer in both France and Germany.
Defied Warnings
The QE plan was expanded by six months in December to March 2017 as ECB officials struggled to boost an inflation rate that's stayed close to zero. The program has defied warnings it would impair liquidity, meaning that smaller orders would actually move prices.
The ECB's head of euro-area bond markets section, Ralph Weidenfeller, said in November it had so far not experienced any problems buying the amount of bonds targeted, while President Mario Draghi said a month later that "bonds are there to be bought in good supply."
Even so, investor concern persists that the now 1.5 trillion-euro ($1.6 trillion) injection into the Eurosystem will reduce the amount of freely available bonds for the rest of the investing world. That's where non-benchmark securities become useful.
"You are increasing the diversity of the supply that's out there," said Elwin de Groot, a senior market economist at Rabobank International in the Dutch city of Utrecht.
Existing benchmark bonds become off the run once they're replaced by a new similar security in sufficient size. Issuing more of the older bonds, which tend to be less frequently traded and, in today's environment, tend to carry a higher coupon, helps expand the universe of securities available to national central banks, who carry out QE. They are limited to buying no more than 33 percent of any bond issue. A benchmark bond is typically the most liquid, most tradeable of a given maturity and is used as a standard to gauge the performance of other securities.
'Preserve Liquidity'
"If you can only buy 33 percent of the benchmark bonds, you won't hit your monthly purchase target over an extended time period," Commerzbank's Schnautz said.
"To preserve liquidity along the entire curve, AFT made some off-the-run issues in 2015 against a background of quantitative easing that saw the Eurosystem regularly purchase every maturity of bond on offer," according to the organization which manages debt sales on behalf of France's finance ministry.
QE purchases resumed this month after a break during the holiday period that slowed the increase of public and private-sector debt holdings to 50.3 billion euros during December, compared with the monthly target of 60 billion euros. There doesn't seem to be a scarcity of government bonds "at this stage," Nishay Patel, a London-based fixed-income strategist at UBS Group AG, wrote in a client note Jan. 5.
Last year, investor concerns that volatility had become excessive were highlighted when the German 10-year bund yield jumped from a record low 0.049 percent in April to above 1 percent in less than two months. It was at 0.58 percent on Thursday at 4:45 p.m. in London.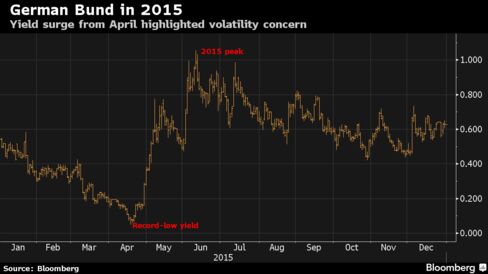 That may change. Old fears about increasingly scarce bonds and volatile prices may return -- especially if the program is increased to counter weak inflation and as eurozone governments keep cutting borrowing.
Peter Chatwell, head of rates strategy at Mizuho International Plc in London, said nations borrowing in a wider range of issues "gives investors the flexibility to pick and choose and be confident about liquidity." He noted that fund managers are required in their mandates to own the most liquid bonds, and that government debt agencies dislike illiquidity too. "The issuer wants to be able to issue in as low yield as possible, and wants to have a smooth a curve as possible."
Before it's here, it's on the Bloomberg Terminal.
LEARN MORE