Goldman Said to Mull Cutting Fixed-Income Staff More Than 5%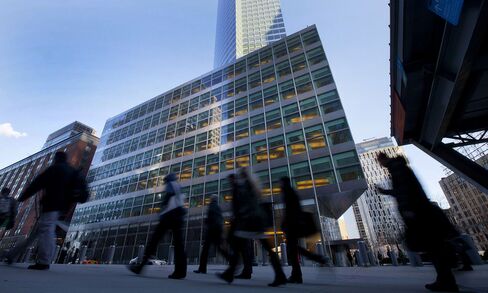 Bank to decide after evaluating first-quarter client activity

Firm has stuck by the fixed-income unit as rivals retreat
Goldman Sachs Group Inc. is considering cutting more than 5 percent of its fixed-income traders and salesmen later this quarter as it contends with an industrywide revenue slump, according to a person with knowledge of the matter.
The bank will make a decision after evaluating client activity during the period, the person said, asking not to be identified because the deliberations are private. The firm ultimately may cut deeper in those operations than its yearly push to cull about 5 percent of staff to make way for new hires, or it could shrink the unit by refraining from replacing those who go, the person said.
The Wall Street Journal reported earlier Wednesday that the New York-based investment bank plans to cut as much as 10 percent of the unit's traders and salesmen. The move wouldn't affect more than 250 people, the newspaper said, citing unidentified people familiar with the matter.
Goldman Sachs has stuck by those operations to boost market share while rival banks increasingly acknowledge fixed-income trading revenue isn't bouncing back after falling by more than half since 2009. The trading slump and stiffer capital requirements have prompted firms such as Deutsche Bank AG and Morgan Stanley to eliminate staff in recent months.
Other Cutbacks
Morgan Stanley included about 470 traders and salesmen from its fixed-income and commodities business in a plan to cut about 1,200 people worldwide, a person briefed on the matter told Bloomberg last month. That amounts to 25 percent of the New York-based firm's fixed-income trading staff, with other reductions coming in infrastructure and support roles, according to the person.
European banks also have been reducing staff amid pressure to strengthen balance sheets, cut costs and improve profitability. Zurich-based UBS Group AG largely exited the capital-intensive fixed-income trading business in 2012. London-based Barclays Plc has been shrinking its operation as part of a broader plan to eliminate 19,000 jobs by 2016, including 7,000 at its investment bank. Frankfurt-based Deutsche Bank's fixed-income and currency division is likely to be affected in a companywide overhaul unveiled in October. The plan called for reducing its workforce by 26,000 people by 2018 and an end to operations in 10 countries.
The long decline in fixed-income trading revenue is probably ending, according a survey of 147 analysts and portfolio managers released last month by Institutional Investor and Broadridge Financial Solutions Inc. Still, any turnaround for banks will be slow -- probably amounting to an increase of only 0.2 percent per year through 2020, the respondents predicted.
'Very Committed'
"We're very committed to it," Goldman Sachs Chief Financial Officer Harvey Schwartz said of his firm's fixed-income business when asked at an investor conference in November whether it may be scaled back. "When we're with our clients, whether they're transacting on a particular day or not, doesn't matter to us. We know the service is important to them."
The bank already has shrunk the unit's headcount more than 10 percent in recent years while adjusting balance sheets for capital rules, he said. The company isn't likely to broadcast additional changes if they're needed, he added.
"You just have to run the business, and if the revenue environment is such that you're in a period of decline, you just need to take those actions," he said. "So, you probably won't hear us make lots of announcements."
Before it's here, it's on the Bloomberg Terminal.
LEARN MORE