German Consumers Spend Money Like They Haven't Since 2000: Chart
German consumers, often mocked for their thrift and stinginess, are finally reaching into their wallets. Private consumption grew 1.9 percent in 2015, the most in 15 years, as record employment, low inflation and wage increases fuel disposable income.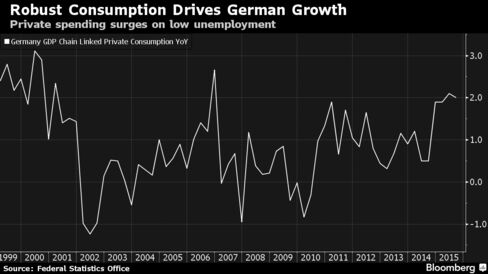 Domestic demand is set to remain the driving force for growth in Europe's largest economy this year as exporters adjust to weakening global trade. After rising 1.7 percent last year, the Bundesbank predicts gross domestic product will advance 1.8 percent in 2016 and 1.7 percent in 2017.
Before it's here, it's on the Bloomberg Terminal.
LEARN MORE