Farmers Battling Drought Owe South Africa Banks $7.5 Billion
Drought, with lowest rainfall on record, withering cornfields

Bad debt among farmers to add extra strain on burdened lenders
Farmers have their highest-ever debt with South African banks of more than 125 billion rand ($7.5 billion) at a time when a drought, caused by the lowest rainfall on record, is withering cornfields and discouraging the planting of crops.
FirstRand Ltd., Africa's biggest bank by value, has the largest proportion of total loans extended to agriculture among the four main lenders at 3.6 percent, Harry Botha of Avior Capital Markets said Thursday. Barclays Africa Group Ltd. has 3.4 percent, Standard Bank Group Ltd. has 2 percent and Nedbank Group Ltd. 1 percent, said Cape Town-based Botha, the second-ranked analyst in the general or specialty financials category of the annual survey by South Africa's weekly Financial Mail magazine.
"Dry conditions would have an impact on profitability because of lower yields, and for some producers it would be a total crop failure," said Nico Groenewald, head of agri business at Standard Bank, the continent's biggest lender by assets. "We expect to see some producers under pressure."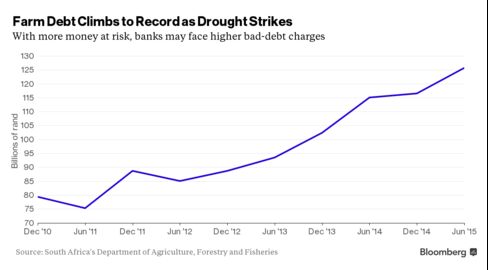 Rainfall last year was the poorest since records began in 1904, the South African Weather Service said Thursday. El Nino, a movement of warm water in the Pacific Ocean that typically leads to a rise in temperatures and a drop in rainfall for South Africa, has left farmers with what's expected to be the most meager corn crop since 1995. They will also probably sow the smallest area with the grain since 2011, according to the government.
'Devastating Impact'
The strain on farmers' finances comes as South African banks, which have total lending exceeding 3.29 trillion rand, contend with increasingly indebted consumers. The strain on households has worsened because of accelerating inflation and rising interest rates, caused partly by the more than 40 percent slump in the rand against the dollar since the start of last year.
FirstRand's consumer unit, First National Bank, won't necessarily decrease lending and tighten credit criteria for farmers this year, according to Dawie Maree, head of information and marketing at FNB Business' agricultural division. "FNB has a well diversified portfolio of clients and is not over exposed to the agricultural sector," he said.
Nedbank, which said in October it had lent 8.96 billion rand to the industry, out of total loans and advances of almost 649 billion rand, "is concerned about the drought impact on the economy, agriculture industry and society at large," said John Hudson, a divisional manager for agriculture at the Johannesburg-based lender. The "devastating impact" of the drought "will place many agricultural producers under financial and cash flow pressure," he said.
While the drought could lead to "additional distressed debt," for Standard Bank, its lending is diversified across a number of agricultural industries -- from timber to wine -- that could cushion the effect of any increase in bad debt among livestock and grain farmers, Groenewald said. The spread of Standard Bank's lending book across industries and countries would also enable it to absorb any drought impact, he said.
Lower Income
"The drought will have an impact on bad debt levels," said Adrian Cloete, a banks analyst at PSG Wealth, the Cape Town-based firm that manages more than 300 billion rand. "Some farmers will probably find it difficult to fund their interest service costs as their income levels will be lower as less maize is planted," he said, using the local term for corn.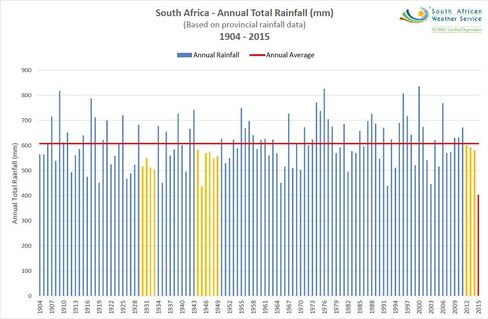 Non-performing loans as a percentage of advances at South Africa's four biggest banks were 2.8 percent by the end of June, according to PricewaterhouseCoopers LLP. The banks have boosted provisions and had a combined total capital adequacy ratio of 15.4 percent by the middle of last year, higher than required by the global Basel benchmark. They haven't forecast how much bad debts linked to farming loans may rise this year. PSG's Cloete was among analysts who said he lacked the data from banks to make accurate estimates of what proportion of the loans extended to farmers could turn bad.
"The banks mitigate the risk by holding a diversified portfolio of loans that is spread over many industries, different types of clients, such as retail, small- and medium-sized companies and corporate clients, and geographical areas," Cloete said. "The extent of the increased bad-debt provisions needed will also depend on the quality of the security that the banks hold against these loans. The banks also hold general provisions, over and above specific provisions, that could be used to cover some of the losses."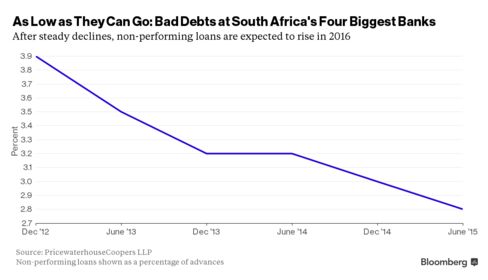 The effect of the drought is only likely to be felt toward August, once some crops are harvested, said Ernst Janovsky, a senior agricultural economist at Barclays Africa. The Barclays Plc unit's diversified loan book will soften any blow from the weather, he said.
Both Barclays Africa and Standard Bank said they will continue to lend to farmers.
"2016 will be a challenging year because of a number of deteriorating economic fundamentals, slow growing economy, high unemployment rate, a volatile rand that reached record low levels recently, increasing inflation and interest rates," Groenewald at Standard Bank said. "The drought conditions will add to those challenges."


Before it's here, it's on the Bloomberg Terminal.
LEARN MORE