Mideast Stocks Decline Most in World as Foreign Traders Flee
Bloomberg's GCC 200 Index drops to lowest since July 2012

Egyptian shares suffer worst week since January 2011
Stocks across the Middle East tumbled as foreign investors exited the region amid a global selloff.
Egypt's EGX 30 Index led the slump with a 5.6 percent decline, taking its retreat this week to 15 percent. The gauge was the worst performer among more than 90 tracked globally by Bloomberg, followed by Dubai's measure. The Bloomberg GCC 200 Index, comprising 200 of the biggest companies in the six-nation Gulf Cooperation Council, retreated 2.5 percent to the lowest level since July 2012.
"Foreigners are dumping stocks in the region," said Ahmed Shehada, the Dubai-based executive director for advisory and institutions at NBAD Securities LLC, the brokerage are of the United Arab Emirates' biggest bank. "Oil has been leading the free fall, China's been adding to the selling pressure and we can't dismiss the geopolitical tension in the region. These three ingredients are a bitter meal."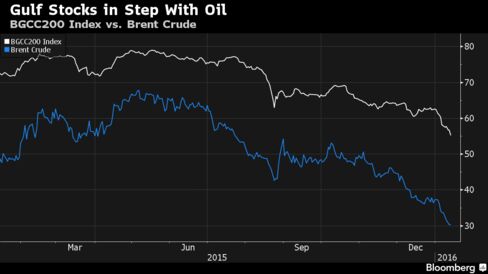 Stocks worldwide declined on concern that turbulence in China's markets will spread to the global economy just as the Federal Reserve is increasing borrowing costs. The equity rout adds more pressure on Middle Eastern shares, which had already suffered losses amid the slump in oil prices and growing tension between Iran and its Arab neighbors.
The GCC is home to about 30 percent of the world's proven oil reserves, and its governments rely on income from energy sales to fund spending. While Brent crude rose 1.9 percent on Thursday to $30.88 a barrel at 3:42 p.m. in London, it remains near the lowest level since April 2004.
The BGCC 200's 14-day relative strength index dropped to 17. A level below 30 signals to some investors that the gauge is oversold. Shehada expects attractive valuations to help stem declines "soon."
Cutting Risk
The slump in Egyptian stocks was led by Commercial International Bank Egypt SAE, which accounts for almost a third of the index. The nation's biggest publicly-traded lender plunged 5.6 percent to the weakest close since July 2014.
The central bank said this week it will restrict imports of goods it deems unnecessary in order to fight a foreign currency shortage that has weighed on corporate earnings and economic growth. Officials maintained the pound's two-month old peg of 7.83 per dollar on Thursday, reflecting an almost 10 percent premium to its value in the black market.
Investors are "disappointed that Egypt is defending the pound at current levels," said Simon Kitchen, an equity strategist at EFG-Hermes Holding in Cairo. "A weaker pound is necessary -- though not sufficient -- to attract capital to the Egyptian market."
Investment funds have been net sellers every day this month, unloading about 584 million Egyptian pounds ($75 million) of securities, according to bourse data compiled by Bloomberg. The bourse suspended trading about five minutes before the close after the EGX 100 Index slumped 5 percent, the threshold that triggers a 30-minute trading halt in the market.
Sabic Drops


About 80 percent of stocks on the BGCC 200 fell. The gauge has lost 12 percent so far this month, for the worst start to a year since the index began about 10 years ago.
Saudi Basic Industries Corp. was the biggest contributor to the gauge's decline on Thursday. The chemical manufacturer's 2.1 percent also helped drag Saudi Arabia's Tadawul All Share Index down 3.3 percent to the lowest level since March 2011.
Qatar's QE Index retreated for a sixth day, losing 2.3 percent. Dubai's DFM General Index, which dropped every day this year except one, declined 3.6 percent. Emaar Properties PJSC, the developer of the Burj Khalifa, the world's tallest tower, sank as much as 6.6 percent before trimming its slump to 5.8 percent to the weakest close in almost three years.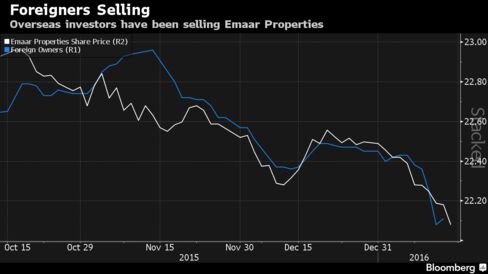 Abu Dhabi's ADX General Index decreased 1.6 percent, and Kuwait's gauge fell 1.6 percent. Oman's MSM 30 Index traded 1.7 percent lower. Bahraini stocks slipped 0.1 percent.
'Positive Guidance'
Turkey's Borsa Istanbul 100 Index dropped 0.8 percent, as banks helped stem steeper declines. The index tracking the country's biggest lenders slipped less than 0.1 percent.
Akbank TAS, the nation's second-largest bank by market capitalization, expects earnings per share to grow 25 percent in 2016, the company said last week. The lender rose 0.4 percent to 7.02 liras.
"The banks' positive guidance for 2016, expectations for easing of some regulations and cheap valuations are supporting banking stocks and limiting further drops for the overall index," said Vedat Mizrahi, the head of research at Istanbul-based brokerage Unlu & Co.
The yield on 10-year government bonds rose four basis points to 11.13 percent. The lira gained 0.1 percent to 3.0233 against dollar.
Israeli Gas Shares
Israel's TA-25 Index slumped 2.9 percent to the lowest in 11 months, led by OPKO Health, Inc. and Teva Pharmaceutical Industries Ltd. following losses in their U.S.-traded shares.
The country's natural gas stocks were among the worst performers. Delek Group Ltd., Israel's largest-traded energy company, sank 6.4 percent to the weakest level since September 2012. Its units Avner Oil Exploration and Delek Drilling declined 4.6 percent and 5.2 percent, respectively. The companies are partners in the Tamar and Leviathan gas fields.
"Prices in the Leviathan and Tamar contracts are linked to Brent crude, which keeps dropping," said Israel Brokerage & Investments Ltd. analyst Liran Lublin, who has a neutral rating on Delek Group's stock. "Investors are also worried about Noble's ability to fund development in Leviathan."
Before it's here, it's on the Bloomberg Terminal.
LEARN MORE