The financiers and captains of industry paying premium prices to bed down in Davos in January may not notice, but apartments in the Swiss town that hosts the annual meeting of the World Economic Forum are starting to look like a bargain.
Prices for holiday homes have dropped as much as 15 percent in the past three years, according to Swiss bank UBS. Supply is up because of a building boom, while a strong Swiss franc is damping demand from foreigners. The franc gained 9 percent against the euro in the past year, spurring those in the market for a second home to consider luxury properties in France or Austria instead. "It's very unpleasant being a property investor in Davos at the moment," says UBS analyst Matthias Holzhey, who says he expects prices to fall an additional 5 percent in 2016. "A strong franc is poison. We've lost most of the foreign buyers."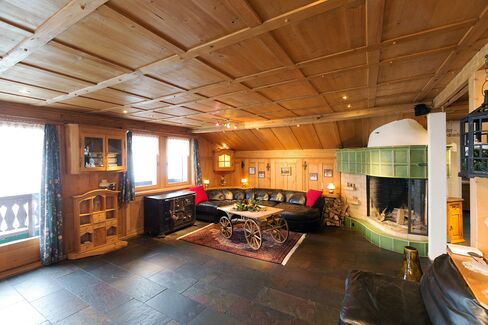 That's not having much impact on room rates during the WEF, which runs Jan. 20-23. Prices for Davos vacation rentals during the rest of the ski season have fallen about 10 percent this year as foreigners shy away from the strong franc, but they've held steady for the week of the forum, the local tourist office says. Real estate agency Markutt Treuhand has rented about 150 places in the town, ranging from 3,000 francs ($2,980) to 50,000 francs for the week, as much as seven times typical winter prices. On Airbnb, a two-bedroom apartment in nearby Klosters is listed for 770 francs a night, about five times the normal rate. "There's nothing available for the WEF week," says Gregor Lo Presti, a snowboarding instructor who's managing reservations for a half-dozen flats.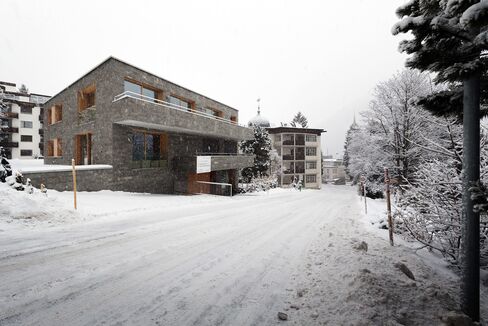 Prompted by concerns about price gouging, the forum's organizers in 2014 introduced a list of hotels that agreed not to raise rates more than 10 percent during the event, though the group says many owners haven't added their name to it. "We want to make sure hotels are not pricing out people who want to participate," says Adrian Monck, the WEF's head of public engagement. "We have people coming from civil society, academia, the media, and they want to stay in reasonably priced places."
To guard against unbridled development, Swiss voters in 2012 approved a ballot measure limiting second homes to no more than 20 percent of the housing stock in any municipality. A building frenzy ensued as developers rushed to complete projects before the law took effect this month. Last year 1,140 apartments were listed for sale in Davos, 27 percent more than in 2014.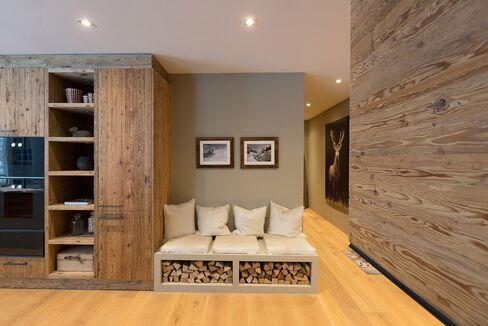 Although luxury home prices in Davos are about half what they are for similar places in St. Moritz or Zermatt, sales have been slow. Broker Sascha Ginesta has sold only one of the four apartments in a complex called Mountain Rock, which was completed in 2012, with units ranging from 1.8 million francs for three bedrooms on the ground floor to 4.6 million francs for a four-bedroom penthouse featuring vistas of the snowy peaks. Christian Fross, another broker, recently sold a two-bedroom flat that had been on the market for nine months after cutting the price 10 percent, to 1.5 million francs. "The market is stopping because sellers are asking too much," he says. "It's like a bubble."
An ongoing concern for landlords: One big annual meeting abandoned Davos last year, and the WEF's agreement with the town is up for review in 2018. Dominated by its massive conference center and large apartment blocks, Davos lacks the charm of many smaller Swiss towns with their quaint chalets and wood-framed houses. So it can ill afford a big drop-off in the convention business, says Adrian Dinkelmann, the local economic development chief. "We were already expensive compared to other international destinations," he says. With the strong franc, "now we're facing even more competition."
The bottom line: WEF attendees still pay top dollar for Davos lodgings, but apartment prices in the town are falling after a building boom.
Before it's here, it's on the Bloomberg Terminal.
LEARN MORE