Casino Plunges After Signaling Profit Will Miss Estimates
Share decline follows Muddy Waters criticism Wednesday

French retailer says taking steps to sell Big C in Thailand
Casino Guichard-Perrachon SA shares dropped to the lowest in more than two decades after the embattled French supermarket operator signaled 2015 earnings were lower than some analysts estimate.
The stock fell 6.2 percent to 38.19 euros at the close of trading in Paris, the lowest price since at least October 1989. Casino Chief Financial Officer Antoine Giscard d'Estaing said it would be "realistic" to estimate 2015 underlying earnings before interest and tax of about 1.5 billion euros, speaking on a conference call. Analysts have been forecasting 1.65 billion euros, according to the average of estimates compiled by Bloomberg.
This is a "slight downgrade to previous guidance," wrote John Kershaw and James Wyatt, analysts at Exane BNP Paribas.
Shortseller Carson Block contends that Casino is using financial engineering to mask a sharply deteriorating core business, and his firm, Muddy Waters LLC, Wednesday extended the attack by saying Standard & Poor's understated the retailer's "dangerously" high debt burden. Casino has rejected the claims, saying it has a solid financial structure and that it may take legal action. The market reaction illustrates concern about Casino's debt and the complexity of its businesses, according to Antoine Parison, an analyst at Bryan Garnier & Co.
"These reports only reflect investors' latent exasperation," Parison wrote in a note. Casino's management needs to convince shareholders it's committed to debt reduction and the French business is back on track to break the "vicious circle," he said.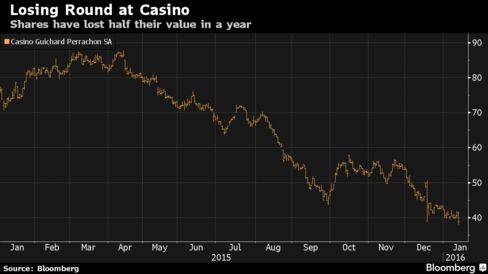 The stock has slumped 50 percent in the last 12 months, lopping more than 4 billion euros off the company's market value.
Casino's plan to dispose of more than 2 billion euros worth of assets this year is on track, Giscard d'Estaing said. The company plans to sell a business in Vietnam in the first half, and said Thursday that it will take steps to divest its Big C unit in Thailand after receiving approaches for it. Big C is the country's second-biggest operator of hypermarkets by number of stores.
The CFO also said it'd be reasonable to estimate 2015 earnings for the French business of 340 million euros, which Barclays analysts said is 15 percent less than previous guidance.
Casino's Cnova NV e-commerce unit started an investigation in December into employee misconduct related to inventory mismanagement at distribution centers in Brazil. The probe has identified a potential overstatement of 2015 sales of about 30 million euros, Cnova said Jan. 12. Casino said Thursday Cnova hasn't yet decided whether it needs to adjust previously published financial statements.
Casino's sales reached 46.1 billion euros ($50.1 billion) last year, rising 0.3 percent on an organic basis, the Saint-Etienne-based retailer said Thursday. That was within 1 percent of the average of estimates compiled by Bloomberg.
Casino's share decline is unjustified, according to Fabienne Caron, an analyst at Kepler Cheuvreux.
"Despite high leverage, recent measures taken by the company are likely to enable it to navigate 2016 without liquidity risks," the analyst said in a note. "The company has enough good assets to crystallize if needed."
Before it's here, it's on the Bloomberg Terminal.
LEARN MORE