Qualcomm, TDK Join Forces in $3 Billion Radio-Chip Venture
Venture is targeting $18 billion market opportunity by 2020

TDK shares surge most since November in Tokyo trading
Qualcomm Inc., the biggest maker of chips that run smartphones, is teaming up with Japan's TDK Corp. to create a Singapore-based joint venture that will make components for the growing market for radio-frequency chips used in handsets, robotics, cars and drones. TDK surged.
Qualcomm will invest about $1.2 billion and TDK will carve out its design and manufacturing assets, plus related patents, into the endeavor, the companies said in a statement Wednesday. The U.S. chipmaker will own 51 percent of the new company, which will be called RF360 Holdings, and have the option to acquire TDK's stake at a later date. The total transaction is worth $3 billion.
The market for the electronic components, which help convert radio waves into signals that are then turned into data by semiconductors inside electronic devices, will grow 13 percent a year to about $18 billion by 2020, the partners said. Teaming up with Tokyo-based TDK, which specializes in filters, will allow Qualcomm to offer modules that contain all of the components needed by smartphone makers in a single, comprehensive package, according to Cristiano Amon, the head of Qualcomm's chip division.
Amon is seeking new growth areas for the company's chips as Qualcomm faces more competition in its core modem and microprocessor business, slowing revenue growth. The San Diego-based company, which last week announced that Volkswagen AG's Audi unit will use its processors in vehicles, is also trying to break into the computer server market and get its chips into a variety of devices including drones and robots.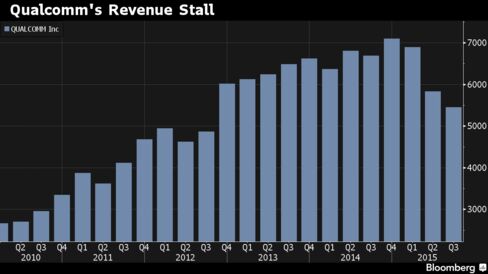 "You have to deliver the economies of scale to the industry," Amon said. "Providing baseband all the way to the antenna is going to provide significant growth."
TDK rose 5.5 percent, its biggest gain in two months, to 7,080 yen in Tokyo. The venture will help the company's push into businesses such as drones, robotics and automotive applications, it said in a statement. Qualcomm slipped less than 1 percent to $46.10 at Wednesday's close in New York.
The announcement hurt the shares of rival makers of RF technology. Skyworks Solutions Inc. fell 6.7 percent, while Qorvo Inc dropped 9.8 percent and Avago Technologies Ltd., which is acquiring Broadcom Corp. to make it a bigger rival of Qualcomm in other areas, declined 5.1 percent.
"Qualcomm is aiming to reduce costs by teaming up with TDK," said Hideki Yasuda, an analyst at Ace Research Institute in Tokyo. "Qualcomm and TDK can complement each other in terms of technology."
Increasing mobile data speeds has made it more difficult to bring radio signals into phones, a task that's proving challenging for handset makers to handle through discrete components. Modern smartphones have to deal with about 49 different frequency bands, compared with just three for early data-capable phones more than a decade ago.
By solving that complexity, Qualcomm will help makers of new categories of devices add cellular functions more quickly, Amon said.
Before it's here, it's on the Bloomberg Terminal.
LEARN MORE