Developing-nation currencies advance the most in three months

Morgan Stanley, Commerzbank unconvinced by better China data
It's not turning out to be a popular rally in emerging markets.
As developing-nation currencies surged the most in three months, Morgan Stanley recommended investors cut their holdings and Commerzbank AG predicted the comeback will be short-lived.
"We fade the bounce in emerging-market currencies and look for renewed weakness," Morgan Stanley strategists led by Gordian Kemen in New York, said in an e-mailed report on Wednesday. Fade traders sell when prices are rising and buy when they fall.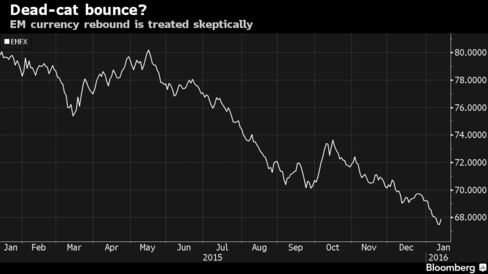 A gauge of 20 developing-nation currencies tracked by Bloomberg rose 0.4 percent on Wednesday, its biggest advance since Dec. 3, after official figures showed China's trade surplus widened and exports recovered last month. The report should be treated with "caution," since it's likely to have been skewed by the cross-border arbitrage between China's onshore and offshore currency rates, Morgan Stanley said.
China stepped up its defense of the yuan, buying the currency in Hong Kong and sparking a record gain in the city's money-market rates Tuesday to deter bearish speculators. The People's Bank of China repeatedly intervened in the offshore market, according to people familiar with the matter, following efforts to talk up the currency from two senior government officials on Monday.
Unsustainable Defense
Most emerging-market stocks and some currencies rebounded after the biggest selloff in almost two years on Tuesday as investors watched China's moves. Uncertainty about how developments in the world's second-biggest economy will affect emerging assets remains. Morgan Stanley's Kemen cited weakness among regional players including South Korea, one of China's top trading partners.
The South African rand strengthened for a second day on Wednesday, trimming its loss versus the dollar this year to 6.3 percent, the most among emerging currencies tracked by Bloomberg. The Russian ruble, Mexican peso and Turkish lira have slid at least 3 percent since the end of December.
Liquidity is tight for developing-nation currencies and China remains a concern, according to Commerzbank.
"Beijing might have been able to contain the turbulence on the Chinese markets for the time being, but this is not a sustainable solution as it costs Beijing a lot of money," Commerzbank analysts including Frankfurt-based Lutz Karpowitz said. "That means that risk aversion might soon be fueled by China again."
The bear market in developing nations is not over as return-on-equity deteriorates, currencies remain weak and commodity prices won't improve until later this year, according to KKR & Co., the private equity firm that correctly predicted the global stock rebound last quarter. The benchmark MSCI Emerging Market Index has dropped 40 percent since May 2011.
"Unfortunately, as we look ahead, we do not see 2016 as a less chaotic year," KRR's Global Macro & Asset Allocation team, led by Henry Mcvey, wrote in a report on Tuesday.
Before it's here, it's on the Bloomberg Terminal.
LEARN MORE