Commodity-Exporter Currencies Hold Gains on China Respite, Oil
Krone, real advanced Wednesday as resource prices stabilized

China trade surplus quells concern about slowing economy
The currencies of resource-exporting nations held gains after an increase in China's trade surplus helped to boost commodity prices.
The Norwegian krone and South African rand climbed almost 1 percent against the U.S. dollar on Wednesday after China's trade surplus widened and exports recovered last month, while crude imports rose to a record. The report assuaged concern that growth is slowing in the world's second-biggest economy.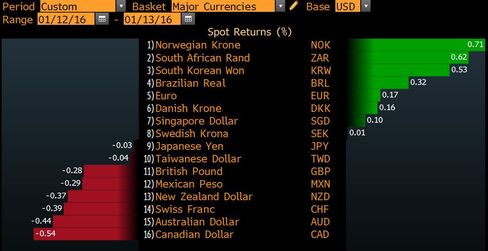 "It's definitely a relief rally after the Chinese trade data," said Karl Schamotta, director of foreign-exchange research and strategy in Toronto at Cambridge Global Payments, which hedges currencies for companies. "Some of the fear around China has dissipated," stabilizing the outlook for commodity demand, he said.
Currencies of raw-materials sellers, including Mexico and New Zealand and Canada, have fallen since the start of the year as China's currency depreciated, fueling speculation that the nation will use fewer natural resources. Crude oil prices erased earlier gains to trade near a 12-year low.
The rand was little changed at 16.5817 per dollar as of 8:25 a.m. in Tokyo on Thursday after advancing 0.6 percent in New York. It dropped to a record this week. Norway's krone was at 8.8202 against the greenback from 8.8191 on Wednesday, when it gained 0.7 percent as the Bloomberg Commodity Index increased 0.3 percent.
China Report
Data on Wednesday showed China's trade surplus widened to $60 billion, taking the full-year tally to $594.5 billion, helping offset capital outflows that have pressured the yuan. The world's largest energy consumer increased imports last year by 8.8 percent to a record 334 million metric tons, or about 6.7 million barrels a day, according to preliminary data released by the Beijing-based General Administration of Customs.
"It's lending some reassurance that China's not slowing as dramatically or quickly as some people had feared," said Thierry Wizman, global interest rates and currencies strategist at Macquarie Capital USA Inc. in New York.
The currencies of nations that depend on commodity exports were hammered in the opening days of the year as an eight-day run of reductions in the yuan's reference rate spooked financial markets. The Bloomberg Commodity Index has slumped 5 percent since Dec. 31, while oil dropped below $30 a barrel Tuesday.
The rand is still down 6.7 percent this year, making it the worst performer among major currencies versus the dollar. The dollars of Australia, New Zealand and Canada have all fallen more than 3 percent.
"It remains a very uncertain trading environment with very thin, illiquid trading conditions," said Alvise Marino, a foreign-exchange strategist at Credit Suisse Group AG in New York.
Before it's here, it's on the Bloomberg Terminal.
LEARN MORE