China Imports Record Crude as Price Crash Accelerates Buying
Crude imports gain 8.8% to record 334 million tons last year

Product exports surge to record in December; rise 22% in 2015
China imported a record amount of crude last year as oil's lowest annual average price in more than a decade spurred stockpiling and boosted demand from independent refiners.
The world's largest energy consumer increased imports last year by 8.8 percent to a record 334 million metric tons, or about 6.7 million barrels a day, according to preliminary data released by the Beijing-based General Administration of Customs on Wednesday. Inbound shipments in December jumped to 33.19 million tons, while oil product exports rose to 4.32 million metric tons, both also records.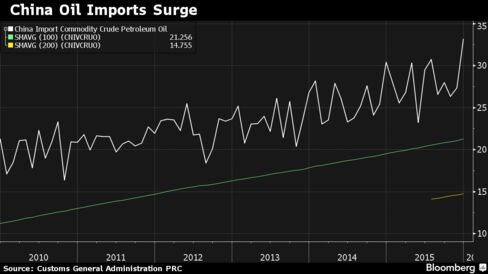 China has exploited a plunge in crude prices by easing rules to allow private refiners, known as teapots, to import crude and by boosting shipments to fill emergency stockpiles. The nation's overseas purchases may rise to 370 million metric tons this year, surpassing estimated U.S. imports of about 363 million tons, according to Li Li, a research director with ICIS China, an industry researcher.
"China's crude appetite will continue to be driven by a boom in teapot imports this year and the filling of strategic reserve sites amid multi-year low prices," Li Li said by phone from Guangzhou. "In the meantime, U.S. dependency on oil imports will gradually decline with higher domestic output."
China may start four additional strategic petroleum reserves this year as part of a plan to stockpile enough oil to cover 100 days worth of net imports by 2020 and thirteen independent refiners have been granted import quotas totaling a combined 55 million tons, or 18 percent of the nation's annual imports.
December Imports
The nation's crude imports last month was equivalent to 7.85 million barrels a day, 6 percent higher than the previous record of 7.4 million in April, Bloomberg calculations show. Oil shipments typically increase near year-end as refineries fulfill import targets and build stockpiles for use during Chinese New Year, which will fall in February this year, according to Amy Sun, an analyst with ICIS China.
Chinese refiners have been flooding regional markets with diesel as they raised crude processing to meet gasoline demand, leading to swelling stockpiles. Distillate exports surged 61 percent in the first 11 months in 2015 from a year ago, according to customs data.
The nation more than doubled its first-batch of 2016 fuel-export quotas to 20.93 million tons to alleviate domestic oversupply, ICIS China said on Jan. 6.
— With assistance by Sarah Chen, and Jing Yang
Before it's here, it's on the Bloomberg Terminal.
LEARN MORE