BNP Paribas says volatility may spur SGD band widening

RBS sees Australia, Taiwan, India as potential rate cutters
The extreme jolt financial markets received this year from a weakening yuan is spurring speculation that central banks from Singapore to Australia will be forced to loosen policy.
The Monetary Authority of Singapore may widen the band within which it guides the local dollar if the currencies of its major trading partners and competitors become "extremely volatile," said Mirza Baig, head of foreign-exchange and interest-rate strategy for Asia Pacific at BNP Paribas SA. Central banks in Australia, Taiwan and India are most likely to respond by cutting interest rates, said Mansoor Mohi-uddin, senior markets strategist at Royal Bank of Scotland Group Plc.
Weaker-than-estimated yuan fixings last week heightened concerns that China's economic slowdown is accelerating and triggered a global market rout. About a year ago, foreign-exchange markets were hammered when Switzerland surrendered its three-year-old cap on the franc against the euro and nations from Canada to Singapore unexpectedly eased monetary policy.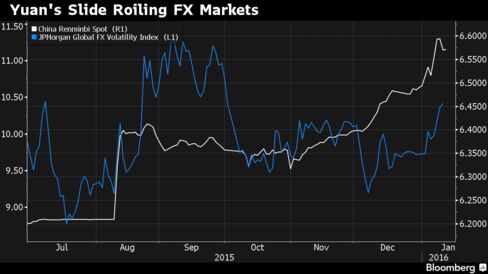 "The depreciation of the RMB is clearly creating large financial shocks," said Baig, who is based in Singapore. "One thing that we are considering -- although this doesn't enter into our forecast -- is that the RMB becomes more of a free-floating, more volatile currency. Then local central banks are also likely to adopt a more laissez-faire kind of approach towards currency management."
China stepped up its defense of the yuan, buying the currency in Hong Kong on Tuesday, according to people familiar with the matter. Betting against the yuan will fail and calls for a large depreciation are "ridiculous" as policy makers are determined to ensure the currency's stability, Han Jun, the deputy director of China's office of the central leading group for financial and economic affairs, said Monday in New York.
Vietnam Moving
The State Bank of Vietnam has already moved this year to a more market-based methodology in setting a daily reference rate versus the dollar.
"They're now forced to change their currency regime to make it more in tune with day-to-day fluctuations in markets," Baig said.
While BNP Paribas expects Singapore's central bank to maintain its monetary policy, there is a risk that it may widen its band "in response to elevated financial market volatility," Baig said.
The Monetary Authority of Singapore guides the local currency against an undisclosed basket and adjusts the pace of appreciation or depreciation by changing the slope, width and center of a band. It refrains from disclosing details of the basket, the band, and the pace of appreciation or depreciation. The yuan probably has the third-highest weighting in the basket, exceeded only by the U.S. dollar and Malaysian ringgit, Baig said.
Volatility Surging
A JPMorgan gauge of currency volatility rose to 10.42 percent Monday, the most since September.
"The more volatile and weaker yuan is set to be more of a risk to regional central banks' outlooks than higher Fed interest rates this year," RBS's Mohi-uddin said.
In 1971, former Treasury Secretary John Connally summed up the U.S.'s attitude toward nations bemoaning the dollar's gyrations when he said "it's our currency, but it's your problem." President Richard Nixon's Treasury chief was rebuking other countries complaining about the U.S. devaluing its currency and quitting the gold standard.
Today, the phrase could be gaining relevance for China, Baig said.
"We used to say from the Fed's perspective, that the dollar is my currency but your problem," Baig said. "From the Chinese perspective right now, the yuan is my currency but it's your problem. That is kind of the reality for everybody else in our region as well."
Before it's here, it's on the Bloomberg Terminal.
LEARN MORE