Investors in World's Best Bonds Take Page From 2015 Playbook
Ukrainian bonds return 3.8 percent in first 12 days of 2016

BofA's Khramov sees further gains for the debt this year
Investors braving a military insurgency, debt restructuring and collapsing economy reaped the biggest rewards worldwide by keeping their money in Ukrainian bonds last year. If the first days of 2016 are anything to go by, the rally isn't over.
The eastern European nation's dollar-denominated bonds handed holders 3.8 percent in the first 12 days of the New Year, the most among Bloomberg sovereign bond indexes tracking developed and emerging nations, which climbed 0.8 percent and lost 0.4 percent, respectively. The gain adds to a 39 percent average return for the nation's debt in 2015.
The reason for optimism lies in evidence the government will make good on pledges to the International Monetary Fund to keep a $17.5 billion rescue loan flowing, according to Vadim Khramov, a strategist at Bank of America Corp. in London. Khramov raised the debt to neutral from sell during a December rout caused by political wrangling over tax policy and the 2016 budget required before the IMF would release $1.7 billion of aid. The budget was adopted in the last week of December after all-night talks.
"Ukraine could perform well again this year," said Khramov. "If everything works out well, there is clearly some upside for bond prices and for yields to go down."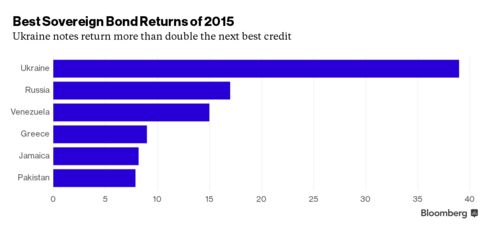 Ukraine needs to keep receiving IMF cash to help revive an economy battered by fighting with separatists that began after Russia's annexation of Crimea almost two years ago.
For each aid tranche, the government in Kiev must show it's achieving IMF targets, which include cutting corruption, stabilizing the banking industry and improving the business climate.
A debt-restructuring deal reached with private creditors helped Ukraine to receive $6.7 billion in bailout money last year. Those funds came in two tranches and another 14 installments worth $10.8 billion are due before the end of 2018. The IMF may approve the next tranche at the end of January or early next month after lawmakers approved tax reforms, Finance Minister Natalie Jaresko told the Ekonomichna Pravda newspaper on Monday.
The yield on Ukrainian dollar bonds maturing in September 2025 narrowed every day this year through yesterday on optimism the IMF program is back on track, dropping 82 basis points to 8.96 percent. The rate climbed to 9.05 percent by 2:20 p.m. in London on Wednesday. The outlook for the economy is improving, with gross domestic product set to grow 1.2 percent this year after a two-year recession, according to a Bloomberg survey of analysts.
'Volatile Waters'
Marco Ruijer at NN Investment Partners in The Hague isn't a buyer.
Risks to further delays in IMF funding are too high, according to Ruijer, who took a bet on Ukrainian debt at the beginning of last year when they fell into distressed levels and later pared his holdings.
"Ukraine is still in volatile waters," said Ruijer, who oversees about $7 billion of emerging-market debt at NN Investment Partners in The Hague. "The way they passed the budget doesn't give me a lot of confidence that they will finally do what they have to do."
Lawmakers approved the budget and its tax changes only after weeks of political infighting that culminated in a fist fight in parliament.
Still, with Ukraine's yields far higher than those of its former-Soviet peers and other similarly-rated countries such as Lebanon, most of the risks are priced in, according to Tim Ash, head of emerging-market strategy at Nomura International Plc in London. Ukraine's dollar bonds are rated B- by Standard & Poor's, six levels below investment grade. Lebanon's 2025 notes yield 6.7 percent, or 2.3 percentage points below similar-maturity Ukrainian debt.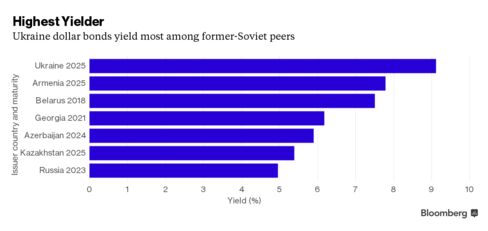 One of the main risks reflected in bond prices is a flare up in fighting in the Ukraine's east, something which is becoming less likely, according to Ash.
"With Russia focusing on events in the Middle East, and with low oil prices creating stresses in the Russian economy, there is a sense that Moscow has taken the foot off the gas in terms of its military intervention in Ukraine," Ash said. "At this stage I feel more inclined to be a buyer than a seller of Ukraine risk."
Before it's here, it's on the Bloomberg Terminal.
LEARN MORE