Just Because You Can Get a Medical Test Doesn't Mean You Should
Women in their 40s face a tough choice on breast cancer screening. It's the kind of dilemma more people will have to deal with.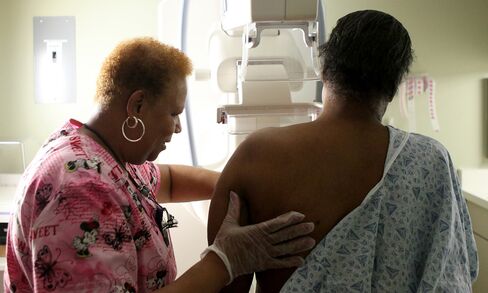 When should women get screened for breast cancer? It's a fraught question. Mammograms can yield false positives or detect lesions that pose no health threat, making patients anxious and exposing them to risks of follow-up tests. But not getting screened may risk missing the chance, however small, to catch a dangerous tumor early.
Difficult decisions like this will become more common as medical tests and health information become unbound from the doctor's office. Lab tests that used to require a visit to a clinic are increasingly available—and marketed—directly to consumers. Apps promise to track everything from how well you sleep to when you're most likely to get pregnant. The Apple Watch will measure your heart rate.
A lot of money is riding on giving people more information about their own bodies and behavior. A new venture backed by Jeff Bezos and Bill Gates aims to create a blood test that can detect early-stage cancer in people with no symptoms. Theranos, the blood-testing startup that has faced questions over the accuracy of its technology, has been valued at $10 billion. Laboratory Corporation of America, the diagnostics giant with $8 billion in annual revenue, last year announced it would start selling tests directly to consumers.
While investors and entrepreneurs see a business opportunity, we don't yet know what the proliferation of testing and self-tracking means for human health. Advocates see the potential to detect disease risks early and lower the odds of getting sick. Skeptics fear that it could lead to a black hole of anxiety and wasted money that does more harm than good.
"It's the customization and consumerization of health care, and that is a great thing if done right," said Michael Parkinson, past president of the American College of Preventive Medicine. "All these things can be effective, but they can also be potentially dead ends or money and energy misspent if they're not appropriately understood."
The debate about breast cancer screening is instructive. In the 1980s and '90s, many health organizations advocated annual mammograms starting at age 40. In 2009, however, the U.S. Preventive Services Task Force, which evaluates the scientific evidence on medical screenings, found that screening every two years makes sense for women between 50 and 75, but that women in their 40s should decide with their doctors whether or not to have a mammogram, recommendations the group reiterated this week.
The guidelines are based on evidence that screening women in their 40s avoids very few deaths at the cost of many, many false positives. Here are the numbers:
Over 10 years, screening 10,000 women in their 40s prevents about four deaths from breast cancer.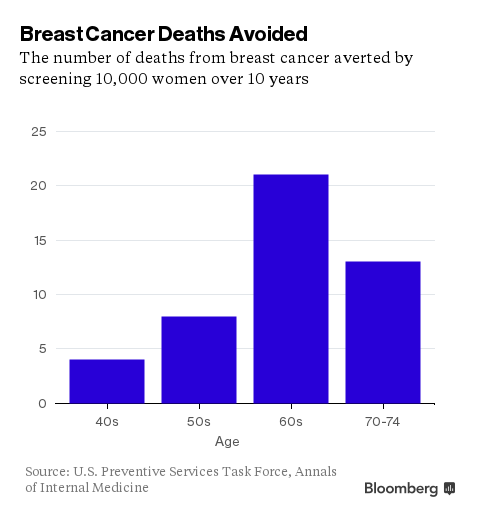 Every time 10,000 women in their 40s are screened, though, more than 1,200 get false positive results, and some of them will get biopsies. (This chart shows the risk of one-time screening, not screening over a period of 10 years.)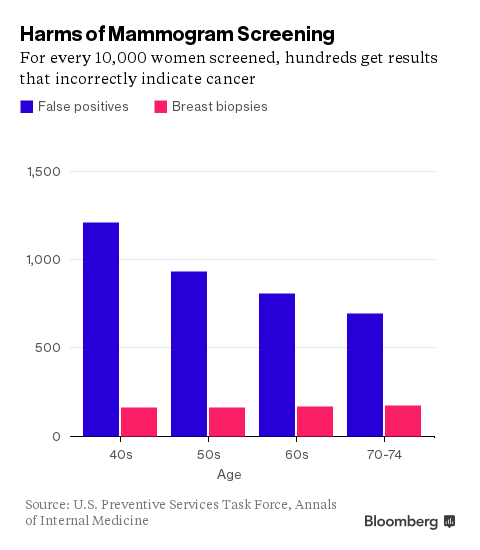 In addition, every 10,000 mammograms result in 10 to 13 false negatives—meaning missed cancers—so a negative result is not an absolute guarantee that no cancer is present. The task force isn't advising against mammograms for women in their 40s. For women of average risk, "the decision to screen should be an individual one, made after a woman weighs the potential benefit against the possible harms," according to the recommendation.
The benefits and harms of mammography have been studied extensively, so women have the data to evaluate it. For people trying to decide whether they'll benefit from a genetic test or a bone density scan or a blood pressure monitor that connects to their phone, there's often not much reliable data to help them.
To benefit a patient's health, a test must be accurate. It must also reveal some condition or risk that can be prevented or treated. Even the best tests are not 100 percent accurate, and some may not work as well as they claim. The Food and Drug Administration, which is making a case for greater oversight of some tests, recently highlighted 20 tests that could cause harm. These include ovarian cancer screenings that frequently indicated cancer when none was present, and prenatal tests intended to detect birth defects that sometimes prompted women to terminate pregnancies based on inaccurate results. Others can uncover things that don't pose danger—the prostate tumor growing so slowly that the patient will die of other causes before it becomes a threat, for example.
"What drives the desire to monitor or to do things is kind of an unrealistic feeling that you're always better off if you do these things, or you're better off knowing," said Lisa Schwartz, a professor of medicine at the Dartmouth Institute for Health Policy & Clinical Practice. "Is there any evidence that doing this test is going to help me feel better or live longer? For most of these tests the answer is no," she said, or there's not enough data to say.
While the public discussion around cancer screening has begun to acknowledge the potential harms as well as benefits, Schwartz said that health tracking apps and devices haven't received the same scrutiny. "There's been this kind of uncritical acceptance of all of this monitoring, people monitoring their vital signs all the time," she said.
What people often fail to understand is that every medical intervention carries some degree of risk, says Steven Woloshin, Schwartz's research partner at Dartmouth (and her spouse). "Your blood pressure is very variable during the day. It may frighten people and think they need to be treated," he said. "Are you going to be tempted to meddle and tinker and get more medical attention?"
Last week, three FitBit customers filed a lawsuit alleging that heart rate monitors on some of the company's activity trackers "are wildly inaccurate," according to the complaint in federal district court in San Francisco. One plaintiff's device showed her heart rate at 82 beats per minute while her trainer counted it at almost double that, near the maximum recommended, "thereby jeopardizing her health and safety," according to the suit. FitBit disputed the allegations and stands by its technology, spokeswoman Julie Mullins said in an e-mail. Mullins also noted that FitBit trackers "are not intended to be scientific or medical devices."
Proponents argue that self-tracking technology could encourage people to make lifestyle changes that influence chronic conditions such as diabetes, obesity, and high blood pressure that drive more than 80 percent of health spending in the U.S. "There's good evidence to say it's different" from going into a clinic for monitoring, said Parkinson, the former president of the American College of Preventive Medicine. "You get higher engagement and better outcomes." He argues that self-tracking, properly deployed, has the potential to help people quit smoking, improve their diets, exercise more, and reduce stress. Enabling people to check their blood pressure at home rather than at the doctors' office could improve care for some 70 million Americans who have high blood pressure, a risk factor for heart attacks and strokes.
Still, Parkinson and others caution that tests that return unreliable results could cause harm. "Some of these have tremendous psychological downsides, a risk of false positives, and all those things can be harmful," Parkinson says. And consumers need to be careful about looking for problems where none exist.
Eric Topol, director of the Scripps Translational Science Institute and the author of The Patient Will See You Now, is an evangelist for the benefits of giving people greater access to their own medical data. "Humans are underrated," he said. "The consumer has been held hostage to going to the doctor's office so they can get a blood test that they know they should get." But even he warns that too much testing can harm healthy people: "What I would advocate is you don't get any tests unless there's a reason, like there's some symptoms."
As we approach a time when people can walk into a drug store and order from a menu of lab tests, pull up the results on a watch that senses their pulse, and monitor changes in their vital signs from month to month or hour to hour, people will have to decide when they want to learn more—and when they don't.
Matthew DeCamp, an assistant professor at the Johns Hopkins Berman Institute of Bioethics and a practicing internist, said some people feel empowered by seeking out lab tests that aren't medically necessary, but they're rarely reassured by whatever they find. "I've seen patients who worry unnecessarily about a test result that they've obtained on their own," he said.
Before it's here, it's on the Bloomberg Terminal.
LEARN MORE