Goldman's Bullish Rate-Cut Forecast for Russia Upended by Oil
Grafe says impact on ruble means easing delay of 4-5 months

Morgan Stanley, SocGen advise bearish stances on Russian OFZs
Goldman Sachs Group Inc. said the rate cuts that have made it bullish on the nation's debt may start months later than expected and other economists are telling investors to pare their bond holdings.
Clemens Grafe, the bank's chief Russia economist, said policy makers will resist rate cuts while a renewed selloff in oil and the ruble risks stoking inflation. It may take them until June to deliver the first reductions Goldman expects will bring Russia's key rate to 6 percent from 11 percent by the end of the year, Grafe said by e-mail Tuesday.
"The impact of the lower oil prices is mostly affecting the timing of our rate cut forecasts and pushing them back by four to five months rather than the fundamental outlook," Grafe said.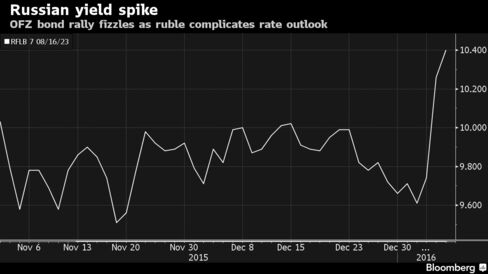 Bets were high for another year of easing after five rate cuts fueled a rally that drove Russian bonds to outperform global peers. During the fourth quarter of last year, Bank of America called the combination of easing and slower inflation "a beautiful bond story" that would lead to double-digit returns for a second year. California Public Employees' Retirement System amassed an overweight position in local-currency notes known as OFZs in its $5 billion international fixed-income portfolio.
Goldman's call for caution follows more bearish advice from Morgan Stanley and Societe Generale SA. Morgan Stanley on Monday cut its recommendation for OFZs to the most pessimistic from marketweight, while Societe Generale closed a long trade on August 2023 OFZs. Both cited risks poised by the weaker ruble and the likelihood that the central bank will postpone monetary easing out of inflation fears.
OFZ Auction
The Finance Ministry will auction 10 billion rubles ($130 million) in floating-rate bonds due Dec. 2017 and 7.8 billion worth of OFZs due May 2020 on Wednesday. The ruble pared losses of 12 percent in the past month, second only to the Argentine peso among major emerging markets tracked by Bloomberg, gaining 1 percent versus the dollar to 76.335 at 1:12 p.m. in Moscow.
While no other economists surveyed by Bloomberg last month expect rates to drop as steeply as Goldman, the median of 24 responses calls for a reduction to 8.5 percent, or 250 basis points, by the fourth quarter. The Bank of Russia has pledged to undo an emergency rate increase to 17 percent in December 2014 that froze lending as policy makers sought to arrest a ruble in freefall.
Policy makers under pressure to tame inflation were forced to pause their easing cycle in September. That followed back-to-back reductions aimed at spurring an economy enduring its worst recession since 2009 as oil, the country's main export earner, tumbled 40 percent and sanctions over Ukraine curtailed access to foreign markets. Oil dropped below $30 a barrel for the first time in 12 years in New York trading Tuesday on concern that turmoil in China's markets will curb fuel demand.
Rising Risks
Rate cuts will resume in the next three meetings if the inflation outlook permits, policy makers said in a statement following their last meeting on Dec. 11. The consumer price index slowed for a fourth month in December to 12.9 percent but remains three times the central bank's medium-term target. The ban on Turkish food in retaliation for the downing of a Russian military jet may add as much as half a percentage point to the rate of consumer price increases, according to government estimates.
"Everything is against OFZs at the start of the first quarter," Yury Tulinov, the head of research at Societe Generale's Rosbank PJSC unit in Moscow, said by e-mail. "The ruble is tumbling on falling oil, creating risks for inflation and for the central bank's rate cuts. At the moment, we don't like OFZs."
Before it's here, it's on the Bloomberg Terminal.
LEARN MORE