Goldman Sachs Sees $64 Billion in Buybacks Rescuing Japan Stocks
After Japanese stocks' worst start to a year on record, Goldman Sachs Group Inc. has a $64 billion reason to keep the faith.
Companies will buy back a record 7.5 trillion yen ($64 billion) of shares in the 12 months starting April, after 5.9 trillion yen of repurchases in the current fiscal year, strategists including Kathy Matsui wrote in a report dated Tuesday. That will help send the Topix index up 28 percent by year-end from Tuesday's close, according to their projections.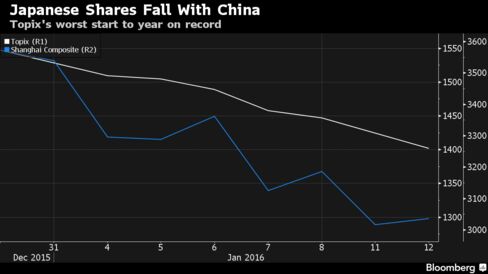 The benchmark equity gauge has tumbled 9.4 percent in 2016, buffeted by turmoil in China's markets and a resulting strengthening in the yen. That's the biggest drop to start a year, according to Tokyo's bourse. Goldman Sachs says Prime Minister Shinzo Abe's overhaul of rules to make companies more focused on stock owners and less prone to hoarding cash will put the Topix back on an upwards trajectory.
"The market made a rocky start to 2016, falling for the first five days, but we remain bullish," the report said. "The advances made in corporate governance reform put cash holdings in the spotlight and have resulted in increased returns to shareholders. Looking ahead, we expect to see moves further focused on shareholders."
Japan started a corporate governance code for companies in June, which complements principles for investors introduced in 2014, as it seeks to make firms use capital more efficiently. That led to record shareholder returns of 14.3 trillion yen in the year ended March, consisting of 10 trillion yen in dividends and 4.3 trillion yen in stock repurchases, according to the report.
Goldman Sachs said it expects further selling of so-called cross shareholdings this year, as well as an increase in mergers and acquisitions. A basket of 50 stocks with high shareholder returns, which includes Japan Tobacco Inc. and Kirin Holdings Co., beat the Topix by 12 percent since its introduction on Nov. 21, according to the report.
The Topix sank 3.1 percent in Tokyo on Tuesday, while the Nikkei 225 Stock Average lost 2.7 percent.
Before it's here, it's on the Bloomberg Terminal.
LEARN MORE