Global stocks dropped for a seventh consecutive session, the longest losing stretch since Dec. 2014. China today stepped up efforts to support its financial markets, steadying the yuan for a third day and intervening to support the exchange rate. Two senior government officials pushed back against the notion that the currency is on a one-way downward trend after it hit a five-year low against the dollar last week. After a volatile day, the Shanghai Composite Index finished 0.20% higher.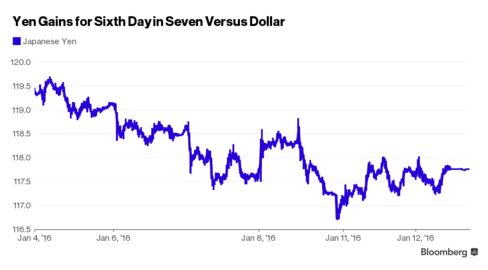 The Japanese yen continues to be the haven of choice for currency investors. Earlier the dollar fell to its lowest against the yen since January 2015. The yen's gains may not last. According to its 14-day relative-strength index the Japanese currency has been overbought for five consecutive days, the longest period since 2011. To some traders, that is a sell signal after the yen rose the most last week since August 2013. The yen started the year on the back of four consecutive annual losses, the worst stretch on record.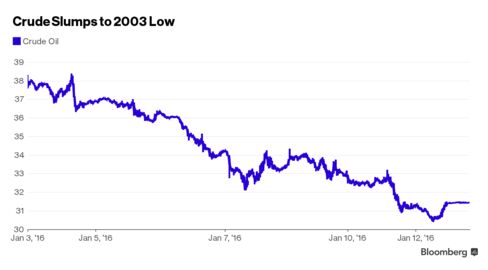 Crude oil's daily losing streak is now seven, the longest since July 2014. Earlier it fell as low as $30.41, taking its 2016 decline to almost 18 percent. Attention now turns to Wednesday's U.S. inventory data. Stockpiles probably rose by 2 million barrels last week, according to a Bloomberg survey ahead of the EIA report. Supplies remain 100 million barrels above the five-year average. $20 Brent crude could be a reality, according to Morgan Stanley, if the dollar rapidly gains, as oil is particularly leveraged to the U.S. currency. Brent earlier fell to $30.43, its lowest since April 2004.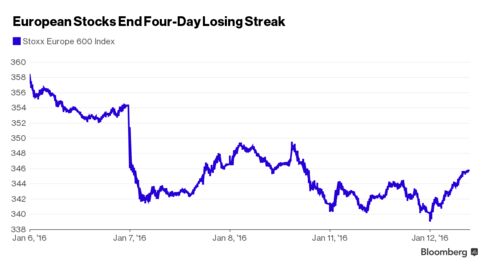 The Stoxx Europe 600 Index bounced between losses and gains after falling for five out of the first six trading sessions of 2016. Ahead of Tuesday, the European benchmark had slumped 7 percent this year. That equates to 666 billion euros of value. Basic resource companies are tracking commodities lower, bringing their streak of losses to five and their annual decline to 15 percent. The Bloomberg Commodity Index, which tracks 22 materials, is now at a 1999 low as China fears persist. Europe's worst performing major benchmark is Germany's DAX Index, which has slumped 8 percent in 2016.
Mark Barton is a presenter on Bloomberg TV. Follow him on Twitter @markbartontv
Before it's here, it's on the Bloomberg Terminal.
LEARN MORE