It's Ermotti Versus Blankfein in China as UBS Pledges Expansion
UBS to double China staff in five years, CEO says in Shanghai

Goldman, UBS are only global banks with full China licenses
UBS Group AG's plan for an unprecedented expansion in China is turning up the heat on Goldman Sachs Group Inc., the only global securities firm that can fully compete with it on the mainland.
Chief Executive Officer Sergio Ermotti, undaunted by the country's economic slowdown and stock market turmoil, told Bloomberg Television on Monday that he plans to add about 600 people in China over the next five years, across businesses ranging from wealth management to investment banking.
UBS and Goldman Sachs are the only foreign firms that can offer a full range of services in China through their securities joint ventures, a key advantage over rivals. With long-dominant local firms like Citic Securities Co. under pressure from a government crackdown on financial-industry misconduct, Ermotti is eyeing a rare opportunity to take market share.

Trials, Tribulations
"The recent trials and tribulations in the domestic brokerage sector are likely to lead to a flight to quality, especially by the more savvy investor," said Keith Pogson, a senior partner for Asia-Pacific financial services at Ernst & Young LLP. "UBS is clearly committed to a full-blown, on-the-ground strategy across its business areas."
Ermotti's expansion would bring UBS's number of employees onshore to about 1,200. New York-based Goldman Sachs, led by CEO Lloyd Blankfein, has close to 350 employees in China. It promoted six bankers from its mainland business to managing director last year. The firm's Asia-Pacific chairman, Mark Schwartz, is based in Beijing.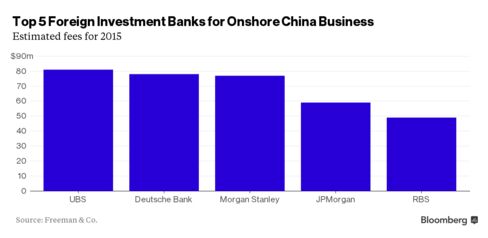 China limits overseas firms to minority stakes in domestic securities joint ventures, which are largely excluded from lucrative businesses such as secondary-market trading in Chinese debt and equities, as well as from managing money for wealthy clients. Banks which want to widen their operations need to apply for extra licences or set up additional joint ventures. UBS and Goldman Sachs, which set up their businesses before the end of 2006, have broader licences obtained under previous rules.
UBS generated the most fees from investment banking in China among foreign firms in 2015 at $81 million, followed by Deutsche Bank AG, Morgan Stanley and JPMorgan Chase & Co., according to data compiled by Freeman & Co. Goldman Sachs didn't feature among the 30 biggest fee earners onshore, the researcher's data show.
Citic's Woes
Investment banks typically see an onshore presence as mainly a platform for advisory work for Chinese companies overseas, such as issuing stock or bonds and counseling them on acquisitions. Including cross-border business, UBS at $169 million trailed Morgan Stanley in investment-banking fees last year and was neck and neck with Goldman Sachs, the Freeman data show.
The Chinese firms that dominate the onshore investment banking rankings may be handicapped this year. The company entrenched in the No. 1 slot, Citic, is among those entangled in investigations by regulators and the police after last year's stock market bust.
What sets UBS and Goldman Sachs apart in China is that their joint ventures have broader licenses, allowing them to offer onshore private banking, asset management and brokerage trading.
Targeting Millionaires
Wealth management holds particular allure, given China's soaring number of millionaires, which Bain & Co. estimates topped 1 million in 2014. The bank plans to open a wealth management branch in Shanghai this quarter, UBS's China head, Eugene Qian, said in a Bloomberg Television interview on Tuesday.
Other banks are targeting China for expansion. While Credit Suisse Group AG does not yet have a significant presence on the mainland, it plans to do more there, CEO Tidjane Thiam said last year. Credit Suisse has a minority stake in Credit Suisse Founder Securities Ltd., which has a license to arrange onshore stock and bond sales and won approval in November to offer stockbroking in a part of southern China.
The stock market's extreme market swings this year and a sliding yuan have revived concern over the Communist Party's ability to manage an economy set to grow at the weakest pace since 1990. Still, the 6.9 percent growth forecast by analysts for the world's second-biggest economy is close to three times the predicted expansion in the U.S.
'Great Opportunity'
UBS invested in Postal Savings Bank of China Co. late last year ahead of a potential initial share sale. The bank sought a stake of about $2.5 billion, people with knowledge of the matter said.
"China is a great opportunity like it has been for the last 20 years," Ermotti said in Shanghai, adding that times of volatility and challenges "are also the good times to plan for the future, and that's the reason why we are starting to implement our strategic plan."
His comments were followed by the Shanghai Composite Index sliding 5.3 percent on Monday. The benchmark gauge was swinging between losses and gains on Tuesday. Last week, the government scrapped circuit breakers, which had been introduced to ease market panics but instead attracted blame for exacerbating selloffs.
UBS plans to double revenue from its equities business in China over the next five years by expanding into margin finance, short-selling and derivatives, Thomas Fang, the firm's head of China equities, said at a briefing in Shanghai on Monday. The firm will add about 100 people to that business over the period, Fang said.
Before it's here, it's on the Bloomberg Terminal.
LEARN MORE