Investors Paying to Park Cash Give Czechs Reason to Load Up Debt
Government offers 100 billion koruna of bonds this quarter

Central bank's koruna sales keep shorter yields below zero
Czech Finance Minister Andrej Babis is about to find out how much investors are willing to pay to lend him a record amount of money.
The government will kick off its 2016 bond sales on Wednesday by offering 20 billion koruna ($807 million) of debt, half of which will be new notes due in July 2019. The country plans to raise as much as 100 billion koruna in the first three months, a record quarterly amount. Maturities of up to three years have had negative yields since early September.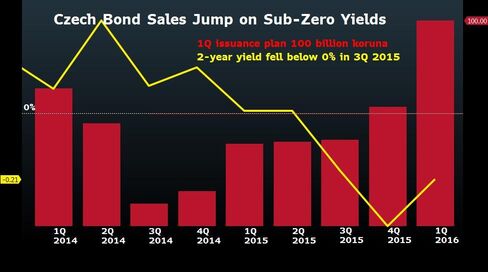 The Czechs are joining Poles in boosting debt sales this quarter to benefit from European Central Bank stimulus that is leaving investors flush with cash. In the Czech Republic, policy makers have been selling koruna to maintain an exchange-rate cap, flooding the market with local currency, while foreign bondholders speculate on local currency appreciation.
"It makes sense for the government to raise as much as possible now, before the central bank turns off the tap and rates go up," said Marek Drimal, senior economist at Komercni Banka AS in Prague. "Speculation on future koruna gains will force policy makers to step up interventions, which could even temporarily squeeze yields to new lows."
While the Czech National Bank has pledged to keep the koruna from breaching a threshold at around 27 per euro at least until July, it said that slower-than-expected inflation may delay the exit until around the end of 2016. Consumer prices rose 0.1 percent in December from a year earlier, below the central bank's 2 percent target, according to data on Tuesday.
The government made an effective interest income of about 540 million koruna from the sale of debt at negative yields last year, Babis told Czech public television on Sunday. The rate on the nation's Nov. 2017 note was minus 0.21 percent on Tuesday as of 9:39 a.m. in Prague, after touching record minus 0.36 percent on Dec. 2.
Before it's here, it's on the Bloomberg Terminal.
LEARN MORE