GE Gets Bids From Chinese Firms Midea, Haier for Appliances Unit
Chinese companies offer more than $3 billion for business

Manufacturer seeking new buyer after Electrolux deal collapsed
Midea Group Co. and Qingdao Haier Co. are among suitors that submitted bids for General Electric Co.'s home-appliances business, after a sale to Electrolux AB fell apart last month, people with knowledge of the matter said.
The unit has attracted separate offers of more than $3 billion from the Chinese companies, the people said, asking not to be identified as the information is private. Midea, China's biggest maker of air conditioners and rice cookers, is working with banks to arrange financing for a purchase, two of the people said. The Foshan-based company and Shandong-based Haier submitted offers last week along with at least two other potential buyers, another person said.
GE is seeking another suitor for the century-old appliance unit after the Electrolux deal collapsed following opposition from the U.S. Justice Department. The business is likely to fetch more this time than the $3.3 billion Electrolux agreed to pay, one of the people said.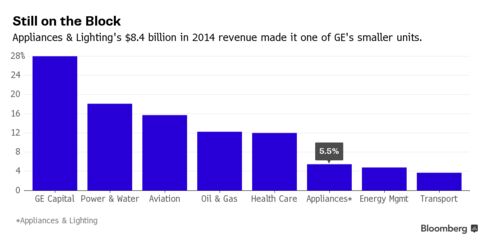 The quick turnaround from the failed Electrolux deal supports GE Chief Executive Officer Jeffrey Immelt's effort to reshape the Fairfield, Connecticut-based company around industrial-manufacturing operations. He's selling the consumer-appliances business along with the bulk of GE's lending arm, while expanding divisions making products such as gas turbines, oilfield equipment and jet engines.
A sale to an Asian buyer is seen as more likely to get regulatory approval, because Asian competitors in this industry generally have a lower market share, RBC Capital Markets LLC said last month. Immelt said at a December investor meeting that there has been "significant inbound interest" in the business and that he expects to reach a deal early this year.
Market Share
Midea is China's biggest manufacturer of consumer appliances, with a 17.1 percent market share in 2015, followed by Qingdao Haier with 7.9 percent, Euromonitor International data show. Haier had a 1.1 percent share of the U.S. consumer appliance market last year, according to Euromonitor.
Haier Group Corp. plans to expand in the North America market, according to a representative for the group, who declined to comment on whether the company has submitted a bid for GE's home-appliances business. Any offer for the unit would be made by the group, rather than its listed units, the representative said by phone Tuesday. Representatives for GE and Midea declined to comment.
Shares of Hong Kong-listed Haier Electronics Group Co. fell 0.6 percent to HK$13.04 as of 10:30 a.m. local time, while Shanghai-listed Qingdao Haier has been suspended since Oct. 19 as the company said it may involve in a "significant acquisition." Midea gained 0.7 percent in Shenzhen.
This is at least GE's third attempt to unload the appliances business, which introduced an electric toaster in 1905 and a home electric washing machine in 1930. The company said in 2008 it would explore options to sell or spin off the business over concerns it was too heavily tied to the tumultuous U.S. market, but the effort was stymied by the financial crisis.
A sale would leave GE's light-bulb division as the company's only remaining consumer business. In 2014, the appliances and lighting unit generated $8.4 billion in sales, accounting for about 5.5 percent of GE's total revenue.
U.S. Factory
Haier Group set up a sales and marketing arm in the U.S. in 1999 and later retail and services networks across North America. It opened a factory in South Carolina in 2000 to make products including refrigerators. The last major overseas acquisition was made in 2011 when it bought the control of New Zealand's Fisher & Paykel Appliances Holdings Ltd. for about NZ$742 million ($487 million).
Midea sells their products in Americas, including the U.S., Mexico and Brazil, according to its website. It hasn't made any foreign acquisition in the last five years, according to data compiled by Bloomberg.
Before it's here, it's on the Bloomberg Terminal.
LEARN MORE