Futures Signal More Losses After S&P 500's Worst Week Since 2011
Oil, copper slide to drag down energy, raw-materials shares

Alcoa edges up in late trading after earnings beat estimates
The Standard & Poor's 500 Index closed little changed in whipsaw trading, after a late-afternoon rebound paced by Apple Inc. and Intel Corp. offset a selloff in commodity shares driven by anxiety that China's slowdown will spread.
Apple and Intel bounced at least 1.6 percent after falling more than 7.8 percent last week. Macy's Inc. soared 8.2 percent, the most in two years, amid pressure to pursue real-estate deals. Miner Freeport-McMoRan Inc. sank 20 percent while Chevron Corp. dropped 1.7 percent as crude and copper tumbled. Biotechnology shares extended their longest rout in three months to drag down the health-care group. Alcoa Inc. slipped in after-hours trading despite earnings that exceeded estimates.
The S&P 500 rose 0.1 percent to 1,923.67 at 4 p.m. in New York, after falling as much as 1.1 percent. The gauge surged 1.3 percent in the final hour to erase a retreat in the first session after its worst weekly decline since 2011. The Dow Jones Industrial Average gained 52.12 points, or 0.3 percent, to 16,398.57. The Nasdaq Composite Index lost 0.1 percent to fall for an eighth day, the longest streak since 2008. The Russell 2000 Index slipped 0.4 percent to the precipice of a bear market.
"China may become less of a burning issue as the scenario has played out, and as the country gives some indications of managing the economic situation," said Richard Sichel, chief investment officer at Philadelphia Trust Co., which oversees $2 billion. "As the attention moves away from China and towards earnings season, that could create a better tone for the market."
Technology shares shook off a 0.7 percent drop in afternoon trading to close 0.6 percent higher, while consumer companies added to earlier gains during the final hour to climb more than 0.8 percent. Banks also wiped out an intraday decline that took the KBW Bank Index down as much as 0.9 percent. The gauge closed Friday at its lowest in nearly a year.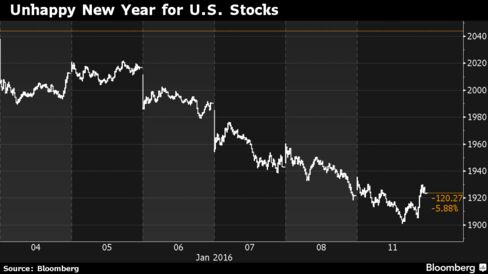 Alcoa fell 1.3 percent as of 5:14 p.m., even as the aluminum producer reported better-than-expected fourth-quarter earnings after the markets closed, as demand grows for components made from the metal. JPMorgan Chase & Co., Intel Corp. and Citigroup Inc. are among 11 companies scheduled to post quarterly results this week. Analysts estimate profits for S&P 500 members fell 6.7 percent last quarter.
Earnings were key to keeping equities from caving after the selloff in August when stocks suffered the first correction since the European sovereign debt crisis in 2011. While the S&P 500 ended down 0.7 percent for 2015, a strategy of buying shares during the peaks of four earnings season would have returned about 11 percent, according to data compiled by New York-based FBN Securities Inc.
One of the reasons stocks have done well is the propensity of companies to beat analyst predictions when they report results. The S&P 500 climbed an average 2.3 percent over the month following Alcoa's announcements in 2015. That's about four times the normal rate of return for all reporting seasons in data going back to 1993.
"The U.S.'s economy is moving along at steady pace," said Chad Morganlander, a Florham Park, New Jersey-based money manager at Stifel, Nicolaus & Co., which oversees about $170 billion. "External factors are applying pressure on earnings and revenue growth, so investors will be closely watching the companies that report this week."
The new year has brought volatility, anxiety about global growth and losses for equity investors. The S&P 500 capped its steepest ever slide over five days to begin a year amid a worldwide rout sparked by worries that China's slowdown is worse than anticipated. The benchmark's tumble to start 2016 has left it 9.7 percent below its all-time high set in May after coming within 1 percent of the record as recently as November. It is 3 percent above the August bottom, retracing a rebound of as much as 13 percent that peaked on Nov. 3.
Investors on Friday found little comfort in December job gains that exceeded forecasts from economists surveyed by Bloomberg, but failed to spark the wage growth sought by Federal Reserve policy makers as inflation continues to undershoot their target. Fed Bank of Atlanta President Dennis Lockhart said he favors continued tightening of monetary policy this year, and a global selloff in stock markets is unlikely to affect the U.S. economy.
The Chicago Board Options Exchange Volatility Index fell 10 percent Monday to 24.30 after a 48 percent jump last week to a three-month high. The measure of market turbulence known as the VIX remains on track for its biggest monthly gain since August's 135 percent jump. About 9 billion shares traded hands on U.S. exchanges, 28 percent above the three-month average.
Seven of the S&P 500's 10 main industries increased today, with consumer and phone companies rising the most. Energy, health-care and raw-materials shares were the worst performers, falling at least 1.1 percent.
Macy's posted its strongest gain since November 2013 after activist hedge fund Starboard Value stepped up pressure to squeeze money out of the department-store chain's real estate, which the firm values at $21 billion. Kohl's Corp. climbed 4.6 percent following a Wall Street Journal report that the retailer is considering whether to hire an investment bank to advise it on alternatives that may include a sale to a private equity firm.
Cigarette makers Philip Morris International Inc., Reynolds American Inc. and Altria Group Inc. rallied more than 2 percent to boost consumer staples shares. Amazon.com Inc. and Home Depot Inc. gained at least 1.5 percent to drive an advance in discretionary companies.
Thirty-seven of the 40 energy companies in the benchmark sank as the group fell further into five-year lows. The price of crude oil decreased for a sixth straight day to a 12-year nadir. The resource has slipped 16 percent over the period. Consol Energy Inc. plunged 9.5 percent to the lowest in three weeks, while Exxon Mobil Corp. lost 2.2 percent.
Health-care stocks in the S&P 500 dropped to the lowest since Oct. 6 as drug developers fell. The Nasdaq Biotechnology Index declined 3.4 percent and extending its eight-day skid to 15 percent.
Celgene Corp. lost 5.5 percent after issuing preliminary fourth-quarter and 2015 earnings that missed analysts' estimates. The company also promoted Chief Operating Officer Mark Alles to chief executive officer, with outgoing CEO Bob Hugin remaining at the drugmaker as executive chairman. McKesson Corp. slid 10 percent, the most since March 2009, after narrowing its 2016 earnings guidance.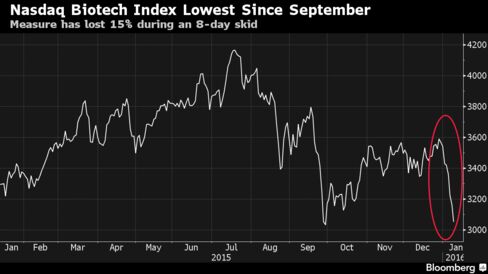 Raw-materials companies fell as the price of copper slid 2.4 percent, touching the lowest since 2009 on concerns the economic slowdown is worsening in China, the world's biggest consumer. Freeport-McMoRan, the top publicly traded copper producer, tumbled as much as 22 percent and marked the biggest intraday loss ever. Newmont Mining Corp. slipped 5.6 percent, while DuPont Co. lost 3.3 percent.
Under Armour Inc. slumped 6.7 percent, the most in three months. Morgan Stanley downgraded the stock to the equivalent of sell from neutral, in part citing declining market share in women's apparel and lower average selling prices in footwear.
Among companies moving on corporate news, HCA Holdings Inc. rallied 5.5 percent after the hospital operator issued a preliminary measure of 2015 earnings that exceeded estimates. Tenet Healthcare Corp. rose 1.7 percent.
Affymetrix Inc. surged 52 percent after Thermo Fisher Scientific Inc. agreed to acquire the company in a deal valued at about $1.3 billion, adding technology used by scientists and biologists to analyze specimens at the cellular and genetic level. Baxalta Inc. declined 2.3 percent as Shire Plc won over the drug developer after adding cash to sweeten a takeover bid worth about $32 billion.
Before it's here, it's on the Bloomberg Terminal.
LEARN MORE