Ex-Deutsche Bank Trader Bittar Granted 1 Million Pound Bail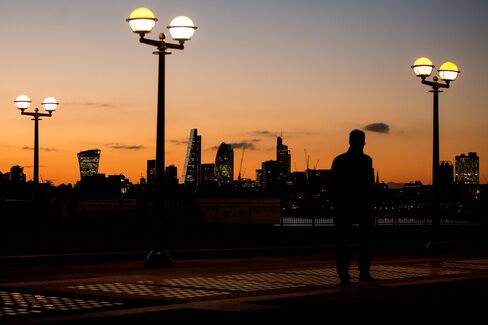 5 of 11 Traders don't turn up to U.K. Court on Euribor charge

Ex-Deutsche, Barclays traders face rate manipulation charges
A London judge released former Deutsche Bank employee Christian Bittar on 1 million pound ($1.46 million) bail after the ex-trader and five others were formally charged in court with manipulating a key interest-rate benchmark.
Bittar, a slim 43-year-old with dark brown hair, and former colleague Achim Kraemer, 51, appeared in court alongside ex-Barclays employees Colin Bermingham, Italian Carlo Palombo, 47-year-old Philippe Moryoussef and Sisse Bohart.

The judge released them, with bail set for Palombo, 37, and Moryoussef, who lives in Singapore, at 150,000 pounds, 100,000 pounds for Kraemer, who is German and still working for Deutsche Bank, and 50,000 pounds for Bohart, who has long, blonde hair and lives in Denmark. No security was requested for the 59-year-old Bermingham, who is retired and the only defendant living in the U.K. Five other traders also facing charges in the case didn't attend the court session.
The 11 traders, who had worked at Deutsche Bank AG, Barclays Plc and Societe Generale SA, were formally charged after the U.K. Serious Fraud Office issued criminal proceedings against them in November. The group are accused of conspiring among themselves and with other bank employees between Jan. 1, 2005, and Dec. 31, 2009, to "procure or make submissions" in relation to the euro interbank offered rate that were false, according to court documents.
The traders who didn't appear Monday include several who worked at Deutsche Bank -- Andreas Hauschild, Joerg Vogt, Ardalan Gharagozlou, and Kai-Uwe Kappauf -- as well as ex-Societe Generale SA trader Stephane Esper. The SFO, which is prosecuting the case, said it would consider seeking extradition of the defendants who didn't appear but declined the judge's offer to issue arrest warrants.
The case was sent to a higher U.K. court for a hearing on Wednesday. The group is the first to face charges globally in relation to Euribor, the euro counterpart of the London interbank offered rate. A number of former traders are facing prosecution for allegedly rigging Libor.
Before it's here, it's on the Bloomberg Terminal.
LEARN MORE