Average mileage of cars sold dropped to 25.3 mpg in 2015

Gasoline averaging $2 a gallon for first time since 2009
American drivers are turning their backs on better mileage.
Retail gasoline is below $2 for the first time since 2009, and it's steering drivers toward pickups and SUVs, which are outselling cars by the largest margin since 2005. The shift from Priuses to Range Rovers caused the average fuel economy of vehicles sold in the U.S. to drop in 2015 for the first time since at least 2008, according to University of Michigan's Transportation Research Institute.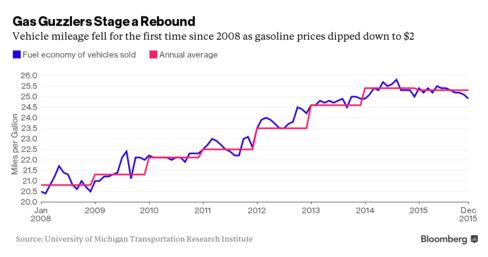 "It's kind of surprising how quickly consumers respond" to falling fuel prices, said Brandon Schoettle, a researcher at the institute. "When it ceases to become a financial burden, it becomes less important."
Retail gasoline averaged $1.965 a gallon Sunday, according to AAA, down by almost half from the 2014 peak. National prices should average $2.28 a gallon this year, according to Patrick DeHaan, head petroleum analyst at GasBuddy Organization LLC. Prices at the pump have fallen as crude oil costs have tumbled 70 percent in the past 18 months amid a global supply glut.
The drop in fuel economy is good news for refiners, as drivers will have to burn more gasoline to travel the same distance. Gasoline demand this summer could be the highest since 2007, DeHaan said.
"The new era of low prices is fueling excitement," he said. "It's pretty quick how Americans react to sustained declines in gas prices."
Before it's here, it's on the Bloomberg Terminal.
LEARN MORE