China Rout Sends A-Share ETFs, ADRs to Worst Week Since August
U.S.-traded funds each fall 13%, exceeding CSI 300 Index drop

Chinese stocks traded in New York post second weekly decline
The largest exchange-traded funds tracking China's A shares posted their worst weekly declines since August after the rout in the country's stock market and currency rattled foreign investors.
Both ETFs slumped 13 percent last week, underperforming the Bloomberg China-U.S. Equity Index's 9.6 percent retreat and the CSI 300 Index's9.9 percent drop. The year's first five days of trading in China included two that were cut short by the nation's new circuit-breaker rule, which required halts on drops of 7 percent or more. Regulators said the four-day-old rule exacerbated rather than calmed the stock-market panic and scrapped it on Thursday.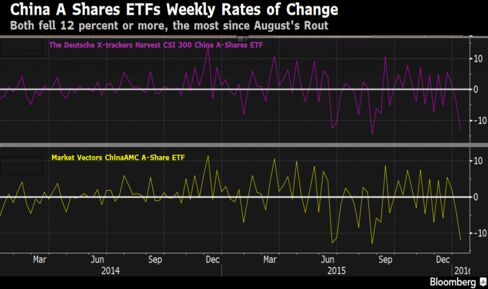 Foreign investors pulled out of Chinese assets as concern spread through both stock and currency markets. The yuan sank to a five-year low on Thursday as the central bank lowered the currency's reference rate against the dollar by 0.5 percent, the most since a similar move in August that also triggered a rout.
"This is a bit like August all over again," said Haoyu Wang, a Hong Kong-based fund manager at Rongtong Global Investment Ltd., by e-mail. "Foreign investors, whose returns are not denominated in yuan, tend to be more bearish on A Shares. With the yuan weakening more than expected, the attractiveness of the A shares is fading out," said Wang, whose firm invests in assets including U.S.-traded Chinese equities and ETFs.
Volatility Surges
The August rout wiped out $5 trillion in market value and prompted unprecedented government measures, including bans on initial public offerings and short sales. On Friday, government funds purchased local financial shares and others with large weightings in benchmark indexes, people who asked not to be identified because the buying wasn't publicly disclosed told Bloomberg News.
The Deutsche X-trackers Harvest CSI 300 China A-Shares ETF rose 0.5 percent Friday, paring weekly decline to 13 percent in New York. The Market Vectors ChinaAMC A-Share ETF added 0.6 percent and closed the week down by 13 percent to $38.50.
The Chinese government is mishandling the stock crisis, said Gabriel Wallach, founder and portfolio manager at North Grove Capital LLC in Boston, who invests in Chinese Internet companies.
"The government's intervention is not letting the market trade at a proper multiple," said Wallach by phone. "They are trying to create a less volatile market but they have just done the opposite by the circuit breaker. It doesn't make us very happy with such high volatility."
Historical 10-day volatility in the CSI 300 soared 31 percent last week to the highest level since September.
In New York, the pessimism about Chinese equities infected even the country's most successful Internet companies. American depositary receipts of JD.com Inc., China's second-biggest online retailer, slumped 14 percent last week to $27.62 the biggest weekly drop since Sept. 4. Alibaba Group Holding Ltd. slumped 13 percent to $70.80. The two companies contributed most to the decline of the Bloomberg gauge of China ADRs.
Before it's here, it's on the Bloomberg Terminal.
LEARN MORE