Mexico Moves Toward Extraditing Drug Kingpin 'El Chapo' to U.S.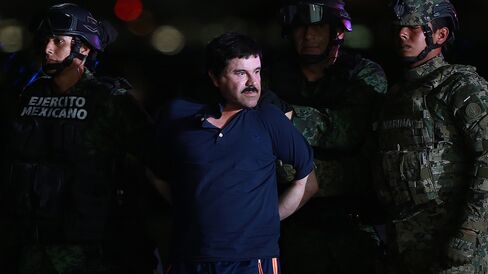 Sending Guzman abroad needs judge's approval, presidency says

Openness to cooperation is reversal of stance before escape
Mexico began preparing to extradite drug kingpin Joaquin Guzman to the U.S. even before he was recaptured, the nation's government said, signaling a new willingness to cooperate internationally in prosecuting the world's most-wanted trafficker.
The foreign ministry, attorney general and judges in 2015 took initial steps to honor U.S. extradition requests for the crime boss known as "El Chapo" while he was still on the run, Mexican President Enrique Pena Nieto's office said Saturday in an e-mailed statement. Neither Pena Nieto nor his Cabinet ministers mentioned extradition a day earlier when announcing Guzman's apprehension.
The decision represents a reversal of Mexico's position before July, when Guzman escaped from prison a second time, humiliating Pena Nieto and spurring international criticism of the country's corruption and weak rule of law. Guzman was caught Friday and returned to the maximum-security Altiplano facility that he previously fled through a tunnel equipped with lighting, tracks and a modified motorcycle.
One Billion Dollars
Guzman has been indicted in at least five U.S. cities for alleged crimes that helped him build a drug-trafficking empire and amass a personal fortune that Forbes magazine estimated to be $1 billion. Drug violence has claimed more than 70,000 lives in Mexico since 2006 and more than 20,000 people have gone missing in that time. Analysts surveyed monthly by Mexico's central bank often rank high crime as the biggest obstacle to economic growth.
The actor and political activist Sean Penn emerged as a key player Saturday when Rolling Stone magazine disclosed that he'd interviewed Guzman in October for a story, the New York Times reported, calling it a "surreal turn" in the kingpin's effort to evade capture. The Associated Press quoted a Mexican official, who asked not to be identified, saying Penn's interview helped police track down Guzman.
In Rolling Stone, Penn said he used cheap pay-as-you-go mobile phones to avoid detection while traveling to meet Guzman in the jungle for seven hours of interviews. "There is no question in my mind but that the DEA and the Mexican government are tracking our movements," Penn wrote in the article, posted on Saturday, recalling the trip.
Penn Investigated
Penn is now under investigation by the Mexican government, ABC News reported, citing unidentified people in the government. U.S. senator and Republican presidential contender Marco Rubio said Sunday on ABC's "This Week" program that while Penn had a constitutional right to interview Guzman, he found the actor's interactions with the fugitive drug lord "grotesque."
Kate del Castillo, a Mexican actress whom Penn says helped arrange the meeting, is also being investigated, the ABC report said. The U.S. Department of Justice declined to comment on the Rolling Stone story and whether the interview led to Guzman's recaptured by Mexican authorities, ABC says. Penn, 55, had follow-up interviews by phone and video after the initial seven hour meeting, Rolling Stone said.
Extradition Request
The U.S. extradition request could take months or years to decide because of the possibility of appeals, three Mexican officials familiar with the process said Saturday, asking not to be identified ahead of the presidential announcement. An attorney for Guzman signaled he would do everything in his power to keep his client in Mexico.
"He should be tried by Mexican judges and tribunals," the lawyer, Juan Pablo Badillo, told Milenio newspaper. "In civilized countries -- I'm speaking of Japan, Israel, France, England -- they don't extradite their nationals. Why does Mexico need to sell out their citizens as if they were a barrel of devalued oil?"
While Badillo said he has presented six appeals against Guzman's extradition, Mexico's presidency said some arguments have been dismissed.
Once Guzman is formally notified of the extradition requests, he has three days to object and 20 days to persuade a judge to accept his reasons, although that period could be extended.
Based on the judge's ruling, the Foreign Ministry will then have 20 days to reach agreements for Guzman's extradition -- a step that can also be appealed by his lawyers, according to the statement. Should Guzman lose those appeals, he would be handed over to the U.S.
'Mission Accomplished'
In 2014, then-Attorney General Jesus Murillo Karam told the Associated Press that he wouldn't accept El Chapo's extradition to the U.S. until after the drug boss had completed his sentence in Mexico, "300 or 400 years later." Murillo Karam was replaced early last year by Arely Gomez.
Since Guzman's escape, Pena Nieto had come under increased scrutiny for his security record, robbing momentum from sweeping legal changes he pushed through to bolster competition in energy and telecommunications.
Pena Nieto declared "mission accomplished," and the U.S. government called Guzman's capture a blow to international drug-trafficking.
Gun Battle
Security officials closed in on Guzman before dawn on Friday at a residence in the Pacific state of Sinaloa, his home state, according to Gomez, the attorney general. A gun battle ensued that left five alleged criminals dead. Guzman fled the property via sewers, and stole vehicles to make a getaway upon emerging, she said. He was eventually intercepted by federal agents, who took him to a nearby hotel as they awaited reinforcements.
Guzman has been a thorn in the side of Mexico's government for more than two decades. He was first caught in Guatemala in 1993 and extradited to Mexico. He escaped from a high-security prison in Jalisco state in 2001.
Mexico's peso, which touched a record low on Friday before the announcement of the arrest, fell 0.5 percent to 17.9354 per dollar in Mexico City at the close. Yields on benchmark peso bonds due in 2024 fell 0.03 percentage point to 6.02 percent.
Before it's here, it's on the Bloomberg Terminal.
LEARN MORE