Europe Stocks With Local Sales Beating China-Exposed Ones: Chart
While China's economy is still growing at a much faster pace than the euro area, it's the European companies most dependent on sales within their own borders that are luring investors, trading at a four-year high versus those reliant on the Asian nation.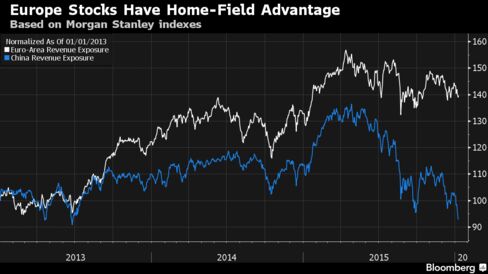 A Morgan Stanley index tracking European companies that get the highest revenue from the region has risen 5.6 percent in the past year, beating the broader market. In contrast, a different gauge tracking European firms most sensitive to China has slumped 19 percent. Concern over repercussions from the Asian nation's slowdown is sending the Stoxx Europe 600 Index toward its worst week since August, with carmakers and miners slumping more than 10 percent.
Before it's here, it's on the Bloomberg Terminal.
LEARN MORE