SAC's Cohen Poised for Hedge Fund Return Under Deal With SEC
Billionaire is barred from managing client money until 2018

Accord resolves claims that he failed to supervise Martoma
He had been a marked man. Today, Steven A. Cohen is nearly free of any legal shackles -- and coiled for a comeback.
Only three years after billionaire Cohen faced a potential lifetime ban on managing money for clients, he has gotten a green light from authorities to get back into the game if he chooses. Under an accord announced Friday with the Securities and Exchange Commission, he could return as early as 2018.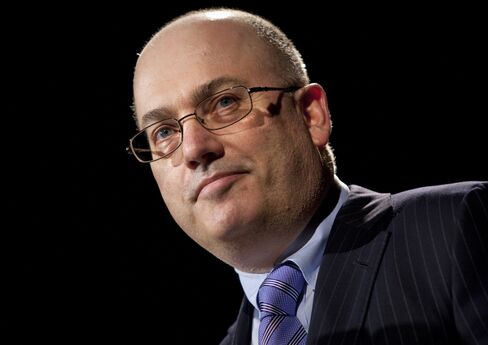 The deal, which settles allegations that Cohen failed to supervise a convicted insider-trader at SAC Capital Advisors, is a significant victory for the trader, who has captivated Wall Street and federal authorities with an almost preternatural knack for reading the markets. It's a setback for the regulators, who sought to make an example of a billionaire in its fight to stop insider trading on Wall Street and who pursued Cohen for years in an investigation that mushroomed into the largest insider-trading probe in history.
"They could have gone to trial but this would be a situation where the SEC is going up against a very deep pocket who basically is betting his business on winning," said Adam Pritchard, a securities law professor at the University of Michigan and former SEC attorney. "It would have been long and bloody, and the outcome would have been highly uncertain."
Pleaded Guilty
Cohen has been preparing for this day almost since the moment in 2013 when his firm pleaded guilty and agreed to pay a record $1.8 billion fine to resolve U.S. insider trading claims. Cohen, who also agreed to return all outside capital, wasn't charged with wrongdoing as part of that settlement. At the time, SEC enforcement officials sought a lifetime ban on Cohen running a hedge fund, people familiar said.
Within months Cohen had already started working to create some distance from his legal troubles. He dropped the name of SAC -- his initials -- and adopted the less personal Point72, named for his headquarters' address. He also hired Doug Haynes, a former McKinsey & Co. director, to run the $11 billion family office and to help sanitize its Wild West reputation.
Point72 has been in growth mode over the past year or so, adding a multistrategy fund, and hiring 150 investment professionals, mostly analysts with no more than five years of experience. It hired 15 college graduates out of 400 applicants this summer for its Point72 Academy, a training program for developing investing talent. In May, the firm even invited a CNBC camera crew to its headquarters in Stamford, Connecticut, to broadcast from the trading floor to help show it wasn't a secretive trading shop.
Internal Memo
"The changes are sweeping and Steve has really been at the center of all of it," Haynes said in an interview late last year. "He is a restless, innovative person who is always wondering how it can be done better."
While Cohen said in an internal memo to employees on Friday that he might not choose to run money for outsiders again, the opportunity is tempting. Even a small number of fee-paying clients would help defray the costs of managing Cohen's personal fortune. In addition, hedge funds tend to have an easier time than family offices in attracting talent, said Brad Alford, chief investment officer at Alpha Capital Management in Atlanta and a former investor in Cohen's hedge fund.
'Greatest Trader'
"I think people will be lining up to give him money," he said . "He's one of the greatest traders in history." In the two decades he ran his hedge fund, Cohen returned 25 percent a year, on average, and he never had a losing year in the portfolio he personally ran.
The settlement requires that Point72undergo routine inspections by the SEC, the regulator said in a statement Friday. Cohen neither admitted nor denied the SEC's claims that he failed to monitor Mathew Martoma, according to the statement.
Before handling outside money again, Cohen will need to have an independent consultant ensure that he has sufficient safeguards to detect and deter insider trading, the SEC said.
"The strong combination of a two-year supervisory bar and additional oversight requirements achieves significant and immediate investor protection and deterrence, while ensuring that the activities of his funds are closely monitored going forward," SEC enforcement chief Andrew J. Ceresney said in the agency's statement.
Point72 spokesman Mark Herr declined to comment on the settlement.
Weaker Case
The prospect of a Cohen comeback follows a decision by the SEC to weaken its case against him. An initial action also accused Cohen of failing to supervise former SAC fund manager Michael Steinberg. The SEC removed Steinberg from the case after U.S. prosecutors dropped charges against him in October following a court ruling that imposed a higher burden on the government to make insider-trading convictions stick.
A lengthy suspension for Cohen became less likely after a dozen insider-trading convictions were thrown out last year. To prove insider trading, prosecutors now must show that a defendant knew their tips came from someone who had a duty to keep the information secret and that the leaker got a benefit from passing it on, the U.S. Court of Appeals in New York said in December 2014.
No Complacency
Cohen said he opted to settle the SEC's case because the longer the litigation went on, "the more it distracted from the world-class firm that we are building." In resolving the matter, Point72 can't become "complacent," he wrote in the memo to employees.
"We must continue to do business at the highest ethical and professional levels and in a way that is fully transparent to our regulators, counterparties, future employees, and potential future investors," Cohen said. "We will remain industry leaders — not followers — in compliance. Doing so requires each of us to continue to adhere to these high standards, every day, without exception."
Before it's here, it's on the Bloomberg Terminal.
LEARN MORE