China Finds $3 Trillion Just Doesn't Pack the Punch It Used To
Foreign currency reserves swoon, ending 22 years of gains

A weaker yuan and capital outflows increase dollar burn rate
China's $3 trillion-plus in foreign currency reserves, the biggest such stockpile in the world, would seem to be a gold-plate insurance policy against the country's current market chaos, a depreciating currency and torrent of capital leaving the country.
Maybe not, say economists. First off, data point to an alarming burn rate of dollars at the People's Bank of China. The nation's stockpile of foreign exchange reserves plunged by $513 billion, or 13.4 percent, in 2015 to $3.33 trillion as the nation's central bank coped with a weakening yuan and an estimated $843 billion in capital that left China between February and November, the most recent tally available according to data compiled by Bloomberg.
"My greatest worry is the fast depletion of foreign exchange reserves," said Yu Yongding, a member of China's monetary policy committee when the currency was revalued in 2005.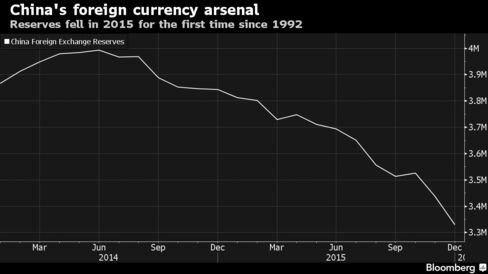 True, trillions of dollars under the central bank's care are thought to be invested in safe liquid securities, including Treasury bonds. The U.S. measure of China's holdings of Treasuries, the benchmark liquid investment in dollars, stood at $1.25 trillion in October, according to the U.S. Treasury Department, which cautions that the figures may not reflect the true ownership of securities held in a custodial account in a third country.
In China, like some other countries, the exact composition of China's reserves is a state secret. But analysts worry the currency armory may not be as strong as it looks. That's because some of the investments may not be liquid or easy to sell. Others may have suffered losses that haven't been accounted for.
In addition, some Chinese reserves may have already been committed to fund pet government projects like the Silk Road fund to build roads, ports and railroad across Asia or tens of billions in government-backed loans to countries such as Venezuela, much of which is repaid through oil shipments.
Then there are other liabilities that China needs to cover, such as the nation's foreign currency debt to finance and manage imports denominated in overseas currencies. When those factors are taken into account, some $2.8 trillion in reserves may already be spoken for just to cover its liabilities, according to Hao Hong, chief China strategist at Bocom International Holdings Co.
"Considering China's foreign debt, trade and exchange rate management, it needs around $3 trillion in foreign exchange reserves to be comfortable." he said.
The decline in reserves accelerated from August, when China made a surprise devaluation to the yuan and said it would allow the market a greater say in setting the currency's value. Authorities followed up in December by flagging a loosening of the yuan's links to the dollar and said its strength would be judged against a basket of currencies.
The yuan's weakness comes as the $10 trillion-plus economy likely grew by its slowest in 25 years years in 2015 and as the nation's markets suffer their worst start to the year in two decades. Trading on the CSI 300, down 10 percent this week, was suspended twice this week as heavy selling triggered a circuit breaker.
The drop in the nation's foreign reserves over 2015 was the first since 1992, ending a 22-year ascent that began under former top leader Deng Xiaoping in an effort to keep a floor under the tumbling yuan. They fell by $108 billion in December alone.
"Where is the line in the sand, and what happens when we get there?," said Charlene Chu, the former Fitch Ratings Ltd. analyst known for her warnings over China's debt risks and now a partner of Autonomous Research Asia Ltd. "China's large hoard of foreign reserves gives the country considerable power and influence globally, and I would think they would want to protect that. If there is such a line in the sand, it is very possible we hit it in 2016."
To be sure, intervention isn't the only thing dragging China's reserves lower. There's also a valuation impact from fluctuating currencies. Some of the fall may also reflect authorities accounting for its investments. Chu reckons much of the decline up to June 2015 was mostly due to investments in illiquid assets and valuation changes rather than capital outflows.
China has other deep pools of wealth from which to draw on, such as a healthy current account surplus. And while capital outflows remain a concern, authorities in recent months have clamped down on money illegally leaving the country and are enforcing strict limits on the movement of cash.
Transparency is improving too. The push for inclusion in the International Monetary Fund's basket of reserve currencies has led to better disclosure of China's reserves, which means analysts can get a better handle on holdings of other foreign currency assets.
Still, the falling reserves remains an issue to watch, said Richard Jerram, the chief economist at the Bank of Singapore, who says any fall towards $2 trillion could set alarm bells ringing. "The burn rate has been worrying," he said. "It's not about how long it gets to zero, its about how long it gets to about 2, which is what they need."
---
Full Coverage of the Global Market Turmoil

Before it's here, it's on the Bloomberg Terminal.
LEARN MORE