Romania Holds Rates, Cuts Reserve Requirements as Risks Grow
Decision matches 15 of 16 economists surveyed by Bloomberg

Global market stress adds to central bank's deflation headache
Romania's central bank kept borrowing costs unchanged for a fifth meeting and resumed easing via banks' reserve requirements as emerging-market turbulence and risks of prolonged deflation cloud the outlook for one of the European Union's fastest-growing economies.
The benchmark interest rate was left at a record-low 1.75 percent, according to an e-mailed statement Thursday, matching the predictions of 15 of 16 economists in a Bloomberg survey. The bank cut reserve requirements for foreign-currency liabilities to 12 percent from 14 percent, leaving those for leu deposits at 8 percent.
The EU's second-poorest country, where elections are due this year after a government collapse in November, faces a cocktail of challenges demanding conflicting responses from the central bank. A reduction in sales tax this month risks extending the first consumer-price declines since communism, while borrowers are stoking an unprecedented local credit boom. Compounding matters, investors are fleeing developing nations as China's economy slows.
"External developments are still marked by uncertainties," central bank Governor Mugur Isarescu told reporters in Bucharest, acknowledging the "dilemma" policy makers are grappling with. "On the internal front we're preoccupied by the very large increase in public spending at the end of 2015 and the budget deficit is worrisome."
While Romania has the tools to tackle the current issues, it won't deploy them all at once, he said.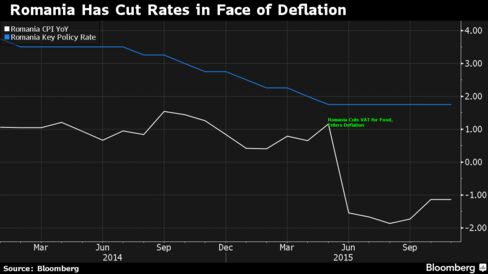 The leu, which lost almost 1 percent against the euro last year, weakened 0.1 percent after the bank's decision. Emerging-market currencies are tumbling and stocks hit a six-year low Thursday after China weakened the yuan's reference rate by the most since August.
Romanian consumer prices fell 1.1 percent from a year earlier in November, dropping for the sixth straight month. Isarescu has said deflation, which he deems a temporary result of cuts in the value-added tax, will turn positive in mid-2016. Without the VAT reductions, inflation would be about 2 percent, he said.
Gross domestic product jumped an annual 3.6 percent in the third quarter, accelerating from 3.4 percent in the the previous three months. The advance is being driven by a surge in retail sales, prompting some officials to fret about the pace of expansion.
"Rather than being concerned that the tax cut could cause deflation to become entrenched, we think the central bank's board is likely to be more worried about the impact on domestic demand," specifically overheating, William Jackson, an economist at Capital Economics Ltd. in London, said in an e-mailed note. "At the same time, the backdrop of the recent increase in investor risk aversion towards emerging markets, as well as a fragile domestic political situation, mean the Council is likely to tread carefully."
Before it's here, it's on the Bloomberg Terminal.
LEARN MORE