Japan Stocks Drop for Fourth Day as China Halts Equity Trading
World equities gauge caps worst start to a year since 2000

China cuts yuan reference rate, sparking 7% drop in CSI 300
Japanese stocks fell for a fourth day, extending a global slide that's seen shares post their worst start to a year since 2000, after China again cut the reference rate for the yuan and trading in the world's second-biggest equity market was halted.
The Topix index sank 2.1 percent to 1,457.94 in Tokyo to close at the lowest level since Oct. 2, as energy explorers led declines after the price of oil tumbled. The Nikkei 225 Stock Average dropped 2.3 percent to 17,767.34, falling below the 18,000 mark for the first time since Oct. 15. The yen traded at 17.64 per yuan in offshore trading, near the highest since 2014, after China's central bank cut its currency's reference rate against the dollar by 0.5 percent.
"A weaker yuan against the yen hits Japanese stocks directly," said Kazuhiro Miyake, chief strategist at Daiwa Securities Co. in Tokyo. "As long as the yuan continues to weaken, you can make money by selling Japanese stocks. In August, investors who made money with that trade are probably doing it again now."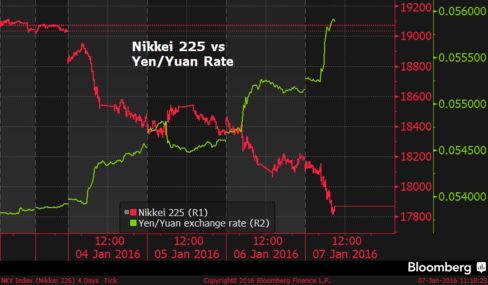 Chinese stocks closed early after the CSI 300 Index slumped 7.2 percent, triggering an automatic halt, the second time trading has been stopped this week. Brokerages in Shanghai reported they were being besieged with calls from angry clients complaining about the market drop.
The weakening of the yuan is signaling the People's Bank of China is becoming more tolerant of a depreciating currency as the economy slows. The MSCI All-Country World Index ended the first three days of 2016 down by 3.3 percent, its worst beginning to a year since 2000.
China Growth
Beijing's reliance on a weaker currency points to the government struggling in its efforts to shore up economic growth and is rekindling concern last seen in August, when markets sold off after China devalued the yuan, sparking anxiety the slowdown would hamper economic expansion globally. On Wednesday, the World Bank cut its global growth forecasts for this year and next as weaker Chinese demand prolongs a commodity slump.
Crude oil extended declines, with West Texas Intermediate touching $32.77 a barrel. Data yesterday showed U.S. gasoline inventories surged the most in 22 years, while crude inventories climbed to an all-time high.
Energy shares led losses among the Topix's 33 industry groups, of which all but one fell. Oil explorer Inpex Corp. dropped 5.2 percent to its lowest close in three months, while JX Holdings Inc. lost 2.5 percent.
Companies that rely on China for sales declined, including electronic-components maker Hoya Corp., which retreated 5.4 percent, the most in four months. Mobile games maker Nexon Co., which gets more than a third of revenue from the region, sank 4 percent.
Sony Drops
Sony Corp. slumped for a second day, falling 3.5 percent on concerns it may need to raise capital for potential deals, according to Marusan Securities Co. The Nikkei reported Sony may seek to buy Toshiba Corp.'s medical systems unit, while Kyodo reported on Wednesday it may acquire a stake in chipmaker Renesas Electronic Corp.
Daito Trust Construction Co. jumped 2.4 percent after orders in December at the builder rose 6.3 percent. Some market participants expected orders to decline after a 32 percent jump in November, Nomura Holdings Inc. wrote in a report.
E-mini futures on the Standard & Poor's 500 Index lost 1.5 percent after the underlying measure fell 1.3 percent Wednesday, with energy and raw-material companies leading the selloff. Equities showed little reaction to the Federal Reserve's latest meeting minutes, which showed some policy makers saw the decision to raise interest rates in December as a "close call."
Before it's here, it's on the Bloomberg Terminal.
LEARN MORE