Kerry Says Iran-Saudi Feud Won't Undercut Syria Peace Efforts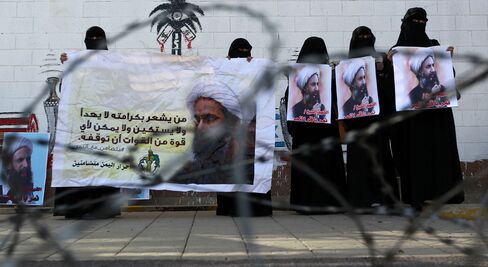 Top U.S. diplomat cites assurances from Zarif and al-Jubeir

Iran revises claims that Saudis damaged embassy in Yemen
U.S. Secretary of State John Kerry said the foreign ministers of Saudi Arabia and Iran have told him their nations' tense standoff won't undercut participation in efforts to forge a peace accord in Syria.
Saudi Arabia's Adel al-Jubeir and Iran's Mohammad Javad Zarif "both assured us that differences between them at this moment, expressed very publicly, will not interfere with their willingness to work cooperatively in an effort to resolve Syria," Kerry told reporters in Washington Thursday.
With negotiations between the Syrian regime of Bashar al-Assad and his opponents scheduled to begin in Geneva on Jan. 25, the deteriorating relations between regional powerhouses Saudi Arabia and Iran have added to uncertainty for the fragile peace process. Shiite-led Iran is a close ally of Assad, whose Alawite sect is a Shiite offshoot, while mostly Sunni Saudi Arabia has backed his opponents.
Friction between Saudi Arabia and Iran spiked over the weekend with the Saudi execution of a prominent Shiite cleric. After an Iranian mob attacked the Saudi embassy in Tehran in protest, Saudi Arabia severed diplomatic and some commercial ties, and several allies followed suit.
Embassy in Yemen
In the latest incident, Iran said Saudi jets struck near its embassy in Yemeni capital Sana'a, toning down a previous statement that the building had been directly hit.
Deputy Foreign Minister Hossein Amir-Abdollahian said a rocket had struck "near the Iranian embassy," Islamic Republic News Agency reported. Witnesses had said there was no visible damage to the mission's buildings and that recent airstrikes hadn't hit the area.
Iran's Foreign Ministry had earlier demanded restitution for a missile attack that state-run Islamic Republic News Agency said damaged embassy walls. "Saudi Arabia is responsible for the damage to the embassy building and the injury to some of its staff," Iran Foreign Ministry spokesman Hossain Jaber Ansari said, according to Iran's Mehr news agency.
The Saudi-led coalition operating against rebels in Yemen will investigate Iran's claim, spokesman Brigadier General Ahmed Asseri told Reuters, saying warplanes had targeted missile launchers used by Houthi militants. The New York Times reported that embassy guards were wounded by shrapnel from an aerial attack on a home said to belong to Ali Abdullah Saleh, the Yemeni president ousted in 2012 and now allied with the rebels.
QuickTake: Sunni-Shiite Divide
"If it is correct and Saudi Arabia has damaged the Iranian embassy in any way, it would almost certainly lead to an Iranian response through retaliatory attacks," Shashank Joshi, a senior research fellow at the Royal United Services Institute in London, said by phone. "If it's false, it's part of a propaganda battle and that will automatically ratchet up tensions."
Yemen is a battleground for one of the proxy wars the sides are waging. A Saudi-led coalition began carrying out airstrikes last March against Shiite Houthi rebels in Yemen in support of allied President Abdurabuh Mansur Hadi. Gulf Arab nations accuse the rebels of being tools of Iran, an assertion they deny.
Import Ban
Iran on Thursday banned all goods made in Saudi Arabia or imported from the kingdom, the Iranian Students' News Agency reported. The decision was taken in an emergency cabinet meeting with President Hassan Rouhani, ISNA said.
The standoff is the fiercest between the rivals since the late 1980s, when the kingdom suspended ties with Iran after its embassy was attacked after the death of Iranian pilgrims during Hajj in Mecca. Saudi Arabia also supported Saddam Hussein's Iraq against Iran during an eight-year war in the 1980s.
Saudi Arabia's Tadawul All Share Index slid as much as 5 percent before paring its decline to close 4.5 percent lower in Riyadh. The Bloomberg GCC 200 Index, a gauge that tracks the 200 largest stocks in the six-nation Gulf Cooperation Council, declined for a fifth day to the lowest since January 2013.
Oil markets have shrugged off the tension and have focused more on rising stockpiles in the U.S. Saudi Arabia is the the biggest oil producer in OPEC and Iran is the fifth-largest.
(Updates to reflect Iran's revised claim in fourth and fifth paragraphs.)
Before it's here, it's on the Bloomberg Terminal.
LEARN MORE