Bloomberg World Mining Index slumps to lowest since 2004

Freeport-McMoRan leads declines on S&P 500 as outlook dims
Copper futures fell below $2 a pound for the first time in more than six years as a slump across industrial metals deepened on concern that China's economic slowdown is worsening.
The retreat in prices helped send a gauge of world mining companies to the lowest since 2004 on Thursday, led by Freeport-McMoRan Inc. and Anglo American Plc. The Bloomberg Industrial Metals Subindex tumbled 27 percent in 2015, the worst loss since the global recession of 2008. Weak Chinese economic reports this week triggered turmoil across global markets and billionaire George Soros warned of a crisis.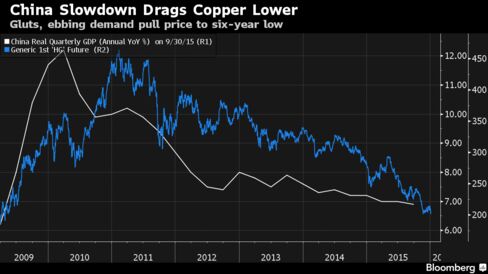 Copper traders have been plagued with excess supplies as demand cooled in China, the world's biggest consumer of the metal. While miners including Freeport have trimmed production, the cuts haven't been deep enough to end the glut. Goldman Sachs Group Inc. predicts the metal will remain in surplus through at least 2020.
On the Comex, copper futures for March delivery tumbled as much as 4.7 percent to $1.99 a pound in the first drop below $2 since 2009. Futures settled at $2.022, down 3.2 percent at 1:14 p.m.
"Western markets have been absolutely smacked around as well because of the problems in China," Bart Melek, the head of commodity strategy at TD Securities in Toronto, said in a telephone interview. China's market turmoil "is being interpreted as poor Chinese economic performance. Many are saying it could be a lot worse than recent data suggest. That means poor demand for everything from copper to zinc to aluminum to oil."
Chinese shares tumbled this week after the Asian nation cut the yuan's reference rate by the most since August, heightening speculation that the slowdown is deeper than official data suggest. The World Bank lowered its growth forecast for the global economy, warning that weakness in China will prolong a commodity slump.
Copper posted a third annual loss in 2015, the longest losing streak since 1998. A decade-long bull market that took prices to a record in 2011 prompted miners to ramp up production, resulting in gluts that have been slow to dissipate.
The 80-member Bloomberg World Mining Index sank as much as 4.1 percent on Thursday, to the lowest since 2004. In London, Anglo American tumbled as much as 12 percent to a record low, and Glencore Plc dropped as much as 9.1 percent. Freeport slumped 12 percent in New York, the worst performance on the Standard & Poor's 500 Index.
The Bloomberg Commodity Index, a gauge of returns on raw materials, slid to its lowest level since 1999 as industrial metals and oil declined.
Before it's here, it's on the Bloomberg Terminal.
LEARN MORE