Boeing to Top Airbus as Largest Jetmaker as Deliveries Rise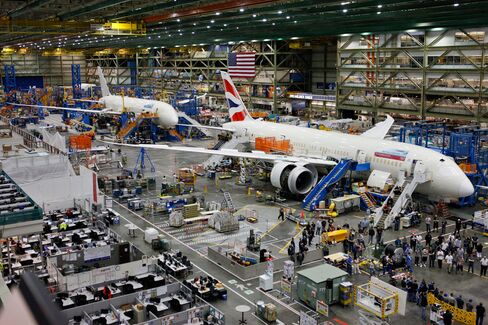 Total of 762 aircraft is led by shipments of workhorse 737

Planemakers have boosted output amid rising demand for travel
Boeing Co. is poised to retain its title as the world's largest planemaker as deliveries soared to a record high.
The total rose 5.4 percent to 762 jets, buoyed by 495 deliveries of its single-aisle workhorse 737, the Chicago-based company said Thursday in a statement. Boeing had set a target to hand over 755 to 760 commercial planes.
The company and rival Airbus Group SE have boosted output to keep pace with sizable backlogs as global carriers upgrade their fleets amid surging demand for air travel. New Boeing models, including versions of the 737 and wide-body 787, use advanced materials and more-efficient engines to provide fuel savings.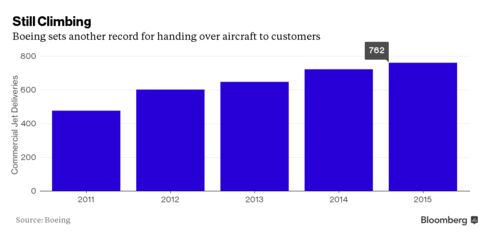 Boeing is set to surpass Airbus's delivery total for the fourth consecutive year. The Toulouse, France-based company handed over about 635 planes last year, people familiar with the matter said last week. Airbus plans to announce the official total on Tuesday. Deliveries are critical for planemakers because that is when they receive the bulk of the payment for the aircraft.
Airbus is looking to reclaim the title as the top planemaker by boosting production of its single-aisle jets to 60 a month by 2019 from the current pace of 42 aircraft. Boeing has said it is studying whether the market and its suppliers could support a similar increase in output.
Boeing handed over 135 of the 787 last year, up 18 percent from 2014. That could hurt earnings since the company loses money on the carbon-fiber jet. Boeing, which struggled with supply-chain disruptions that delayed the 787's entry into service by three years to 2011, has said it expects the model to break even on a cash-flow basis this year.
Orders Tumble
The company's net orders dropped 46 percent to 768 last year. Some analysts have questioned whether years of strong plane sales are waning amid cheap oil, rising interest rates and global economic uncertainty.
The tally was boosted by several late-year deals, including a $10 billion agreement last month from China Southern Airlines Co. The year's orders are valued at $112.4 billion at current prices, Boeing said. Discounts off the list price are customary in the industry.
Boeing fell 4.2 percent to $133.01 at the close in New York amid a decline in world stock markets. The shares rose 11 percent last year, compared with a 0.7 percent decline in the Standard & Poor's 500 Index.
Before it's here, it's on the Bloomberg Terminal.
LEARN MORE