North Korea Quake Near Nuclear Site Was Artificial, Says South
North Korea has conducted three nuclear tests, last in 2013

Quake had depth of ten kilometers, according to USGS
A 5.1-magnitude earthquake detected near North Korea's nuclear test site appears to have been artificial, according to South Korea's meteorological service, raising the prospect the isolated regime tested a nuclear device.
The quake had a depth of ten kilometers, the U.S. Geological Survey said, while Chinese earthquake networks put it at zero. It was centered 19 kilometers from Sungjibaegam. A 4.9-magnitude earthquake in a similar location was recorded before confirmation of North Korea's third nuclear test in 2013.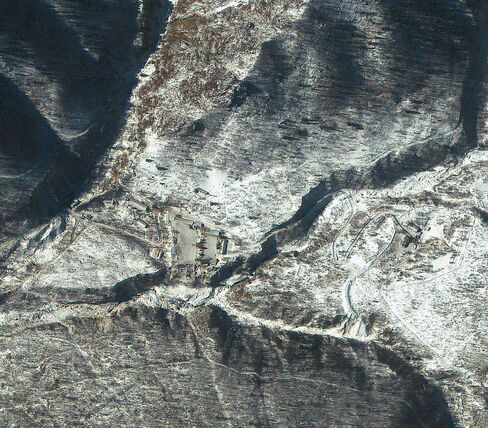 The regime in Pyongyang has given notice that it will make an important announcement at midday North Korea time, South Korea's Yonhap News Agency said. The government in Seoul is convening an emergency meeting, according to an official at the presidential office.
Confirmation of a test would elevate North Korea's nuclear program toward the top of the global diplomatic agenda, with leader Kim Jong Un possibly seeking to use the raised tensions to demand economic and political concessions from South Korea and the U.S.
"A fourth nuclear test would allow for miniaturization and diversification of nuclear weapons so was an essential step for North Korea," said Ahn Chan Il, who heads the World Institute for North Korea Studies in Seoul. "North Korea may be thinking it can open up for reforms only when it's recognized as a nuclear power."
South Korea's Kospi index extended losses to 0.6 percent, while the won declined 0.6 percent against the dollar. The MSCI Asia Pacific Index of the region's stocks dropped 0.7 percent.
North Korea may be preparing to test thermonuclear weapons capabilities at its Punggye-ri site, Yonhap reported earlier this month.
"We are aware of the media reports but don't have anything to share at this time," Lieutenant Colonel Valerie Henderson, a Pentagon spokeswoman, said by phone.
The earthquake follows North Korea's threat in September that it is ready to use atomic weapons against the U.S. at any time and that its main nuclear facility was fully operational. The regime in Pyongyang has often launched missiles or conducted nuclear tests to raise tensions in an effort to wring economic and political concessions from South Korea and the U.S.
Technical Capabilities
Still, "a fourth nuclear test would be totally unexpected," Chang Yong Seok, a researcher at the Institute for Peace and Unification Studies at Seoul National University, said by phone. "It's probably an effort to enhance the technical nuclear capabilities, but it makes murky any prospect of Kim's visit to China this year if it is indeed a nuclear test."
Kim in his new year address pledged to "actively" work to improve ties with South Korea and urged the government in Seoul not to take any action that would upset talks. While he made no specific reference to his country's nuclear arms development during the speech, he said his forces should develop diverse "strike capabilities" for self-defense.
Before it's here, it's on the Bloomberg Terminal.
LEARN MORE