Koruna Cap Exit More Likely in Early 2017, Policy Maker Says
Data show interventions against koruna resumed in November

Central bank said exit was probable at ``around'' end-2016
The Czech central bank is increasingly likely to abandon its limit on currency gains at around the beginning of 2017 rather than this year, said Jiri Rusnok, who's favored to take over the central bank this year.
The Czech National Bank should scrap the koruna cap only when its forecast clearly shows inflation heading to above the 2 percent target, Rusnok, who is President Milos Zeman's preferred candidate to become the regulator's governor this year, said in an interview published by Hospodarske Noviny newspaper. Policy makers have pledged to keep the current regime in place at least until July, and the bank said in December the exit was probable at around end-2016.
The monetary authority is caught between opposing forces as domestic demand drives one of the fastest economic expansions in the European Union while declining commodity prices push inflation back to near zero. The European Central Bank's quantitative easing is channeling more capital into Czech assets and adding to the dilemma facing policy makers in Prague, who were forced to resume market interventions to weaken the koruna in November.
"At the moment, it seems that the likelihood of a later exit from the foreign-exchange commitment has increased, that is, toward around the start of 2017," Rusnok said in the preview of an interview published in full by Hospodarske's sister magazine Ekonom on Thursday.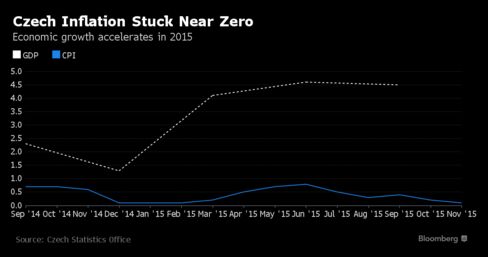 The annual inflation rate fell to a nine-month low of 0.1 percent in November, mainly because of cheaper food and lower energy costs. The central bank sees inflation at 2.2 percent at the end of its forecast horizon in the first quarter of 2017.
Accelerating economic growth and speculation that policy makers may scrap the limit earlier than planned pushed the exchange rate toward the bank's intervention level, defined as "near" 27 against the euro. It forced the central bank to sell koruna in the market in July, August and September last year, the first time it had to do so since it imposed the cap in November 2013.
After conducting no interventions in October, the bank resumed selling the koruna the following month, buying an equivalent of 369 million euros ($400 million), according to data from November published on Thursday. The currency has hovered near 27 in the past month and traded little changed at 27.03 against the euro as of 10:11 a.m. in Prague.
While the method of abandoning the koruna cap will be the subject of "detailed and probably also complex" debates at the bank, the exit can only happen when policy makers are sure they won't have to return to a similar unconventional tool again, according to Rusnok.
"I personally see a need for some overshooting of the inflation target, and then, I think, there will be appropriate conditions for exiting the intervention regime," Rusnok said.
Before it's here, it's on the Bloomberg Terminal.
LEARN MORE