Emerging Currencies Slide to Record on Yuan Shock as Ruble Drops
Chinese currency falls to five-year low after weaker fixing

South Korean assets drop after North conducts nuclear test
Emerging-market currencies fell to a record as growing evidence that China is becoming more tolerant of the yuan's depreciation unnerved investors. Russia's ruble tumbled with Saudi Arabian stocks as Brent crude slid below $35 a barrel.
The Chinese currency dropped to a five-year low after the central bank set the yuan's daily reference rate at the lowest level since April 2011. The ruble closed at its weakest level ever against the dollar. South Korea's won slumped after North Korea said it successfully tested a hydrogen bomb, adding to geopolitical risks in the New Year that have also included growing tension between Saudi Arabia and Iran.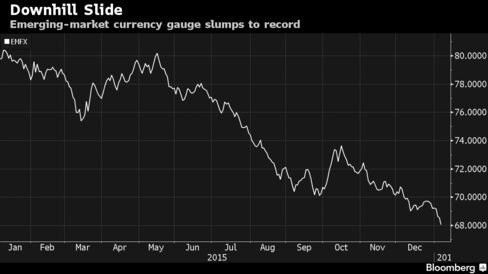 Investors are rushing out of developing-nation currencies following the worst annual rout since the 1997 Asian financial crisis as China's slowdown weighs on commodity prices and damps prospects for trade with the world's second-largest economy. China may be headed for a "hard landing" as borrowers are taking on record amounts of debt to repay interest on their existing obligations, Marc Faber, publisher of the Gloom, Boom & Doom Report, said in an interview with Bloomberg Television on Wednesday.
"A weaker yuan increases the competitiveness of Chinese exports and reduces the Chinese propensity to import," said Simon Quijano-Evans, a London-based emerging-market strategist at Commerzbank AG. "As a result, those more exposed to China and the commodity story come under pressure, while the rest suffer from negative spillover."
Currencies
Quijano-Evans prefers central and eastern European credits, including Hungarian, Romanian and Serbian international and local-currency bonds.
The yuan's drop is increasing the risk that developing nations will have to weaken their currencies to stay competitive. Exchange rates in Russia, South Africa and Malaysia dropped at least 1.2 percent on Wednesday. All three countries count China as their biggest trading partner.
The other major drag on emerging markets on Wednesday was the price of oil, which tumbled 6 percent to $34.23 a barrel in London. Stocks in oil exporter Saudi Arabia, which this week severed ties with Iran, dropped 3.3 percent. The Micex Index in Moscow declined 0.3 before a two-day holiday, while the ruble retreated 1.9 percent.
A gauge tracking 20 emerging-market currencies dropped 0.7 percent, its fourth day of losses. The ringgit weakened 1.2 percent as China's cut in the yuan's fixing fueled concern that a slowdown in the region's biggest economy will crimp demand for Malaysian exports. Brazil's real slipped 0.5 percent. Turkey's lira dropped for a fourth day, retreating 0.6 percent.
Stocks
The won depreciated 0.8 percent. North Korea said it successfully tested its first hydrogen bomb, escalating tensions with neighboring countries. The regime in Pyongyang detonated the device at 10 a.m. local time, its official Korean Central News Agency said. The explosion was initially detected as a magnitude 5.1 earthquake by the U.S. Geological Survey.
The MSCI Emerging Markets Index fell 1.1 percent to 759.81, the lowest since July 2009. The price-to-book value for the gauge of 838 stocks from China to Russia and Brazil has plunged to the lowest level since October 2008, following the worst start to a year since 2005. The last time valuations were this bad, developing-nation stocks more than doubled in value in the following 12 months.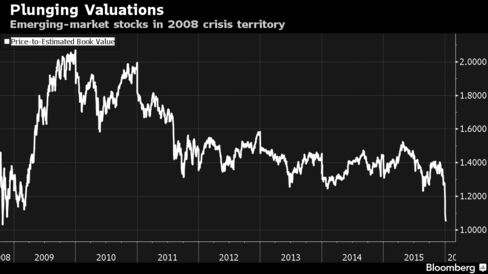 All but one of 10 industry groups in the MSCI developing-markets measure retreated on Wednesday, led by technology companies. Largan Precision Co. and Catcher Technology Co. lost more than 5 percent in Taipei. Nikkei Asian Review reported that Apple would reduce the first-quarter output of its latest iPhones by about 30 percent.
China Rebound
The Tadawul All Share Index retreated for a third day. Indian stocks decreased to the lowest in three weeks. South African stocks declined to a two-week low. South Korea's equity benchmark slipped 0.3 percent.
China's CSI 300 gained 1.8 percent and the Shanghai Composite Index advanced 2.3 percent. Policy makers revived intervention in the $6.5 trillion market this week as state-controlled funds bought equities on Tuesday after a 7 percent plunge on Jan. 4 and the securities regulator signaled a selling ban on major investors will remain beyond its Jan. 8 expiration date, according to people familiar with the matter.
The premium investors demand to own emerging-market debt rather than U.S. Treasuries widened nine basis points to 425, according to JPMorgan Chase & Co. indexes.
Before it's here, it's on the Bloomberg Terminal.
LEARN MORE