Constellation Outperforms Booze Rivals With Beer-Wine Mix: Chart
U.S. drinkers are increasingly opting for wine and imported beer over brands like Bud Light, a boon for Constellation Brands Inc.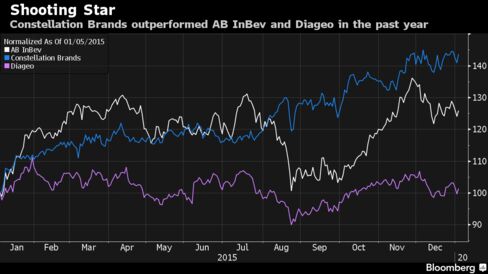 The spirits company, which owns Robert Mondavi and Corona, is outperforming peers such as Anheuser-Busch InBev NV and Diageo Plc. Its shares gained 45 percent last year, more than twice the rate of AB InBev.
While AB InBev remains the king of beer, it's been grappling with slower growth -- part of the motivation for its deal to buy SABMiller Plc. Constellation's Corona Extra and Modelo Especial, meanwhile, have been two of the fastest-growing beer brands in the U.S. And the company's $1 billion acquisition of Ballast Point Brewing Co. is bringing a fresh growth opportunity by pushing Constellation into craft beer. Constellation's Svedka vodka also is one of the industry's most promising brands, said Kenneth Shea, a Bloomberg Intelligence analyst. "I can't think of anybody else who's better positioned," he said.
Before it's here, it's on the Bloomberg Terminal.
LEARN MORE