Brevan Howard's Worst Month Said to Trigger Second Annual Loss
Main $20 billion macro hedge fund declines 2 percent in 2015

The hedge fund had recorded its first annual loss in 2014
Brevan Howard Asset Management's main macro hedge fund posted a record monthly loss in December as markets were blindsided by the European Central Bank.
The Brevan Howard Master Fund dropped 3.9 percent, leaving it down 2 percent for 2015 and triggering a second successive annual decline, said a person familiar with the matter, who asked not to be identified because the information is private. The slump exceeded the fund's previous record monthly drop of 3.2 percent in September 2008 when Lehman Brothers Holdings Inc. imploded, according to a December newsletter seen by Bloomberg News.
"Institutional investors look to hedge funds for consistent returns and are intolerant of even quite short-term losses," said Peter Douglas, founder of hedge fund consultancy GFIA in Singapore. "It's likely to be very damaging to Brevan Howard business."
Macro hedge funds were among investors that increased bets the euro would fall as they anticipated the ECB would increase its asset-purchase program and cut interest rates at its Dec. 3 meeting. Instead, the common currency jumped after a bond-buying increase and a cut in the deposit rate fell short of some analysts' expectations.
A spokesman for Jersey, Channel Islands-based Brevan Howard declined to comment.
Brevan Howard Macro Ltd., a listed fund that invests in Brevan Howard Master Fund, recorded a 2.9 percent drop in its net asset value during the first week of December, according to a company statement.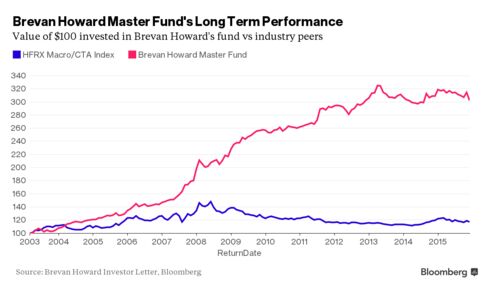 It was a torrid year for macro hedge funds using economic trends to bet across asset classes. In January 2015, the Swiss National Bank unexpectedly abandoned the franc's cap against the euro. Many of the best-known names in the industry were also trapped by losses incurred due to a turmoil in commodities markets and as the devaluation of the Chinese yuan in August pummeled equity markets.
"Macro managers were also not helped by conflicting signals from policy makers evidenced by the Fed's decision to not hike in September and, more significantly, the ECB disappointing markets in December, " said Akshay Krishnan, head of macro strategies at hedge fund investor Stenham Advisors.
Brevan Howard's flagship fund managed $20 billion at the end of November after gaining 1.9 percent in 11 months. The firm, led by billionaire Alan Howard, has seen its assets decline to less than $25 billion from $40 billion in 2013, though it remains Europe's largest macro hedge fund firm.
The Master Fund's loss this year is in line with a similar decline in the HFRX Macro/CTA Index. It lost 0.8 percent in 2014, the first time it didn't record an annual profit since the fund began trading in 2003.
Before it's here, it's on the Bloomberg Terminal.
LEARN MORE