Bank Options Turn Bearish as Favorite 2015 Trades Keep Unwinding
Put-call ratio on financial sector ETF is highest in a year

Investors are hedging against declines a week before earnings
The start of Federal Reserve tightening was supposed to boost stocks in financial firms that have seen interest income shrivel. If hedging activity is any indication, investors are getting antsy about that trade.
The ratio of bearish to bullish options on an exchange-traded fund tracking financial companies in the Standard & Poor's 500 Index has climbed to the highest level in a year this week, according to data compiled by Bloomberg. That reflects rising demand for protection against losses in an ETF that absorbed $1.7 billion over the last three months of 2015, the most among nine industries.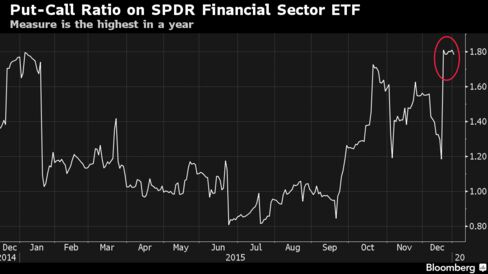 Financial shares in the S&P 500 have fallen 5 percent since the Fed raised rates last month, including a 2.1 percent rout on the first day of 2016. While profits for the group are expected to expand this year, forecasters don't expect to see expansion until the second quarter as banks from JPMorgan Chase & Co. to Morgan Stanley battle falling trading revenue and declines in bond issuance.
"If you believe in an equity market rally in 2016, you're almost forced into financials because it has all the ingredients of a sector that should work -- the problem is that it hasn't yet," said Nicholas Colas, chief market strategist at ConvergEx Group LLC in New York. "Everybody loves this group but there are a lot of sector-specific fundamentals that have to fall into place. I can totally see why investors want to be hedged."
The purchase of financial shares is one of several crowded trades that have investors nervous in the three weeks following the Fed's decision. Technology and consumer-discretionary shares, groups that include high-fliers such as Netflix Inc. and Electronic Arts Inc., have fallen more than 5 percent since mid-December after delivering 2015's biggest gains in the S&P 500 up to that point.
Technology shares fell 1.3 percent at 9:40 a.m. in New York, while financials decreased 1.6 percent as U.S. equities struggle to rebound from the worst opening-day session since 2001.
Banks are expected to see earnings contraction of 1 percent for the fourth quarter of 2015 and 1.9 percent for the first three months of this year, according to estimates compiled by Bloomberg. The sector's profit growth will surge to 15 percent in the third quarter and finish the year up by 8.5 percent, the forecasts show.
Third-quarter earnings at JPMorgan and Goldman Sachs Group Inc. tumbled as turmoil in global financial markets led to steep drops in trading revenue. Lenders such as Citigroup Inc. were able to boost profits by cutting expenses faster than revenue fell. JPMorgan is slated to start the reporting season for banks on Jan. 14.
Money managers like Peter Jankovskis of OakBrook Investments LLC don't buy into the pessimism surrounding the upcoming earnings season.
"My expectation is that financials will do quite well with the higher rates out there," said Jankovskis, who helps oversee $1.9 billion as co-chief investment officer of Lisle, Illinois-based OakBrook Investments. "Maybe they're concerned about trading volume on the Treasury side of things. My expectation is that financial earnings will be solid, and certainly if there's that follow through then the bearishness will turn around."
It's unclear just how quickly the Fed will raise its target rate. The central bank's policy makers said the pace of tightening would be gradual and depend on firming labor and inflation data. Futures traders see a shallower path for rates this year. The derivatives market is pricing in slightly more than two Fed increases in 2016, and the odds of four hikes by December are just 9.6 percent.
Traders own 174 bearish contracts on the SPDR Financial Select Sector ETF for every 100 bullish ones, according to data compiled by Bloomberg as of Jan. 4. The measure rose to 181 on Dec. 30, the highest put-call ratio since Nov. 24, 2014. On average in 2015, the ratio was 118-to-100.
"Everyone's saying the financials are going to get better because interest rates are rising but it's not going to happen overnight," Michael Block, chief strategist at Rhino Trading Partners LLC in New York, said by phone. "People should be worried about earnings, about how banks are going to make money. They need higher interest rates and they need more trading opportunities."
Before it's here, it's on the Bloomberg Terminal.
LEARN MORE