Xi Opens Year of Political Jockeying With Nod to Chongqing Boss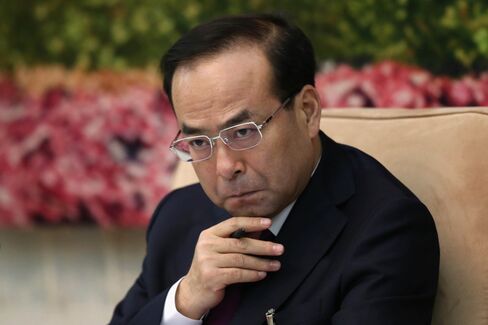 President uses first visit to endorse Sun Zhengcai projects

Praise comes amid growing attention on next party reshuffle
President Xi Jinping opened a year expected to see increased jockeying for top Communist Party posts by endorsing the economic policies of one of China's most prominent rising stars.
During a visit to the southwestern metropolis of Chongqing on Monday, Xi stood side by side with municipal Party Secretary Sun Zhengcai and praised various projects under his purview, according to the official Xinhua News Agency. While inspecting port and railway projects to support Xi's initiative to build a new "Silk Road" linking Asia to Europe, the president said, "This place is very promising."
The trip comes amid growing focus on the planned party congress next year, when five of seven members on the supreme Politburo Standing Committee -- all except Xi and Premier Li Keqiang -- are scheduled to retire. As the Politburo's youngest members, Sun, 52, along with Guangdong Party Secretary Hu Chunhua, are among the best-positioned for top leadership spots when Xi himself is slated to retire in 2022.
Zhang Lifan, a Beijing-based historian and political commentator, said Xi's visit was a show of support for Chongqing's economic development plan and raises its standing after the city provided the backdrop to one of China's most explosive political scandals. That case ended in 2013 with the sentencing of the once high-flying local party chief, Bo Xilai, to life in prison for corruption and abuse of power.
Chess Piece
"There are several layers of meaning here," Zhang said. "His visit can also be read as an acknowledgment of the work by the current leader, Sun, who will be a key piece on Xi's chessboard for the 19th Party Congress."
The Chongqing trip -- Xi's first since taking power in 2012 -- provides another boost to local mayor Huang Qifan. The former coking plant manager was named to the panel that drafted Xi's signature economic plan in 2013 and was among a half dozen regional leaders who joined the president on a state visit to the U.S. in September.
The sprawling municipality of almost 30 million people is located more than 1,400 kilometers (870 miles) from the coast and served as China's capital during the Japanese invasion. Chongqing has prospered as the country's economic boom rolled inland, reinventing itself as a regional hub for manufacturing, logistics, financial services and foreign investment.
During his last official tour of Chongqing as vice president five years ago, Xi was accompanied by Bo and praised the then-leader's campaign to fight crime and promote Mao-era revolutionary songs. The trip represents a departure from Xi's practice of opening the new year by inspecting poor and remote villages in Gansu, Inner Mongolia and Yunnan.
Fast Growth
The country's top leader hasn't officially visited Chongqing since President Hu Jintao swung through in 2007.
"There is more than meets the eye," Wang Xiumo, a researcher with the government-backed Chongqing Academy of Social Sciences, said of Xi's visit. "It comes at a critical point when the Chinese economy is in a downturn and seems struggling to pick up in the near term. Xi wants to show his support for Chongqing, and this is an affirmation of the Chongqing leadership."
Chongqing led China's regions with 11 percent economic growth in the first nine months of last year, according to the official China News Service. That compares with 2.7 percent growth in the northeastern province of Liaoning during the same period.
"Chongqing's economy has grown steadily over the past three years when many other provinces were going through a downturn," Wang said. "After Xi's trip, there could be more support from the central government for Chongqing."
— With assistance by Ting Shi, and Keith Zhai
Before it's here, it's on the Bloomberg Terminal.
LEARN MORE