S&P 500 First-Day Loss Serves as Barometer for January Recovery
Index usually rebounds from initial declines of more than 1%

Above-average rallies have followed biggest day-one setbacks
January may bring a recovery from the Standard & Poor's 500 Index's biggest opening-day loss in 15 years, if history is any guide.
The chart below tracks the S&P 500's performance in years when the index fell more than 1 percent on the first day of trading. The index's percentage change during the rest of January is shown along with the initial decline.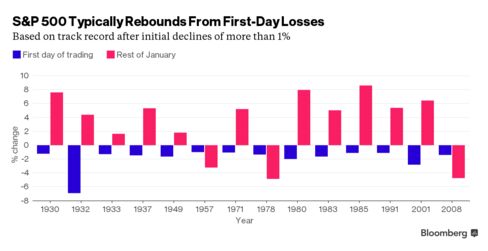 Yesterday marked the 15th time that the S&P 500 began a year with a loss exceeding the 1 percent threshold, according to data compiled by Bloomberg. The 1.5 percent drop was the steepest since a 2.8 percent decline was recorded in January 2001.
In all but three of the earlier occurrences, the S&P 500 rose in the remainder of the month. The average advance for all 14 instances was 3.3 percent, more than enough to offset the initial decline.
Above-average recoveries followed each of the biggest setbacks, which were recorded in 2001, 1980 and 1932.
In January 2001, the S&P 500 rallied 6.5 percent after its first-day loss. An even bigger reversal took place in January 1980, when a 7.9 percent advance followed a first-day decline of 2 percent. The index rebounded 4.4 percent in January 1932 after a 6.9 percent loss to start the month.
Before it's here, it's on the Bloomberg Terminal.
LEARN MORE