Offshore Investors Chase Record Deals in Nordic Property Market
The Nordic property market could reach new heights this year as foreign investors continue to drive demand after 2015 delivered the highest transaction volumes ever.
Pangea Property Partners, which tracks real estate transactions, estimates there were 905 deals in 2015, valued at 39.4 billion euros ($43 billion) across Sweden, Norway, Finland and Denmark. That's 36 percent above deal values in 2014. Pangea monitors transactions for properties exceeding 5 million euros in everything from residential real estate to office space and hotels.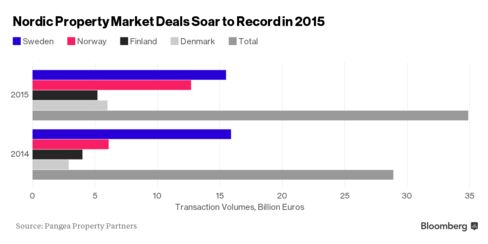 Real estate in the Nordic region is being propped up by record-low, and even negative, interest rates that have helped support economic growth. That, and a "substantial inflow of capital," means the Nordic property market "will remain strong throughout 2016," Mikael Soederlundh, head of research and a partner at Pangea, said in an e-mailed response to questions. A lack of supply will raise rents in the Stockholm office market, where there's "significant surplus demand," he said.
In Norway and Denmark, 2015 transaction volumes more than doubled, while in Finland they rose 30 percent. Sweden recorded a 3 percent decline, but remains the region's biggest transaction market. According to Pangea, growth in the Nordic region was driven by international investors, with cross-border transactions accounting for more than 35 percent of the total volume.
"Currently, the Nordics as a region show strong economic growth in comparison to the rest of Europe," Soederlundh said. "The Nordic property markets also offer an attractive deal flow, which will continue to attract significant international interest. Furthermore, the largest Nordic investors are becoming increasingly interested in investing in their neighboring countries, creating an interesting pan-Nordic asset rotation."
Both Sweden and Denmark have pushed their benchmark interest rates rates below zero. At the same time, Nordic countries -- with the exception of euro-zone member Finland -- are showing stronger economic growth than much of the rest of Europe, which could help push 2016 transaction volumes to a new record, Soederlundh said.
"It is possible -- we expect the high transaction activity in the Nordics to remain in 2016," he said. "Right now there is very strong demand for Nordic property, with a broad range of eager investors, so we might end up above 40 billion euros for the first time. One should also remember that property prices have increased several years in a row, helping us to reach new records."
The economy of Sweden, where the central bank has lowered its key rate to minus 0.35 percent and started bond purchases to try to lift inflation, expanded by a better-than-expected 3.9 percent on an annual basis in the third quarter. For Norway, the weak Norwegian krone will be an important factor in 2016, giving international investors more "value for money," Soederlundh said.
Before it's here, it's on the Bloomberg Terminal.
LEARN MORE