These 10 Numbers Will Tell Canada's Economic Story in 2016
Country headed for back-to-back sub-2-percent years of growth

Indicators to watch include home prices, terms of trade
Canada's economy doesn't often fail to muster annual growth of at least 2 percent, and it's rarer still to see it happen in consecutive years. Yet forecasters in a Bloomberg survey are calling for a 1.8 percent expansion this year, after 1.2 percent in 2015. That would mark only the third time the country has recorded back-to-back years of sub-2 percent growth since the end of World War II.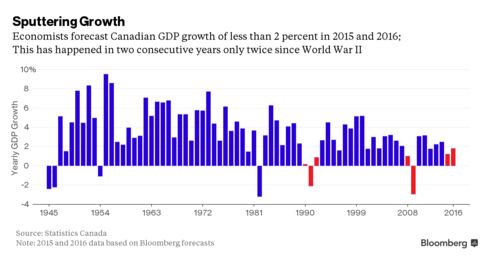 Here are nine more numbers that will illuminate Canada's economic path in year ahead.
1956

The collapse in commodity prices, the story of 2015, was more of a shock to domestic income than to production because Canada, which has always relied on resources, is earning less for every unit of oil, metal or wheat it produces. The depth of the commodity collapse is perhaps most clearly reflected in Canada's terms of trade -- the price of exports relative to imports -- which fell 7.9 percent in the third quarter from a year earlier, putting the annual decline on pace to be the biggest outside of the 2008-09 recession since 1956.
-0.25%
Futures traders, betting the Bank of Canada will open its toolkit again to give the country's battered economy a lift in 2016, are placing a 39 percent probability the benchmark rate will be cut in half to 0.25 percent by the end of the year, according to Bloomberg calculations on overnight index swaps. They're assigning a 19 percent chance rates will go to zero.
There's even a small probability -- about 5 percent -- rates could go to negative 0.25 percent. Governor Stephen Poloz introduced the prospect of negative borrowing rates in a Dec. 8 speech, saying even though such unconventional monetary policies aren't required now, they could be deployed in the event of another economic shock to prop up the financial system. The next rate decision is Jan. 20.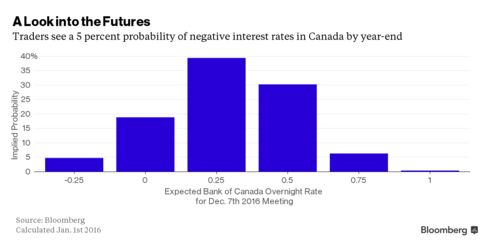 C$141 billion
Newly elected Prime Minister Justin Trudeau has pledged to run small annual deficits to finance infrastructure and boost economic growth, which may take some of the pressure off the Bank of Canada. While the plan initially was to run C$25 billion ($18 billion) in cumulative deficits over three years, Trudeau and Finance Minister Bill Morneau are preparing to up the ante on deficit spending.
How high can they go? According to Bloomberg calculations, the federal government can run C$141 billion of cumulative deficits over the next five years if they chose to simply keep the debt-to-GDP ratio at current levels.
61.76 cents
After falling 16 percent last year and 26 percent since the end of 2011, the Canadian currency may test record lows in 2016 if the commodity boom continues to deflate. That would be 61.76 U.S. cents, reached in January 2002, about 14 percent below current levels.
That's not the base case scenario for forecasters, who see 2016 marking the end of the decline. The consensus in a Bloomberg survey predict the loonie will finish 2016 higher than it started. To be sure, at the end of 2014, forecasters were predicting little change for the Canadian dollar in 2015.
C$3 Million
More than 80 detached homes in Vancouver West were sold above that price in November alone. Toronto, Canada's biggest city, isn't far behind. The average price of detached homes sold in the swanky Sunnybrook Park area rose to C$2.95 million the same month.
Its one of the starkest examples of growing imbalances in Canada's household sector that includes record indebtedness, inflated home valuations and over-investment in condominiums.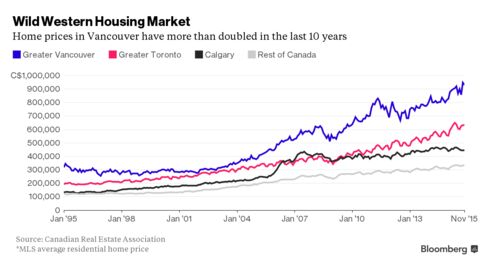 54%
If you are a high-earning banker or doctor who loves paying taxes, Canada is for you.
One of Trudeau's first acts in government was to raise tax rates on the country's high income earners starting this year, in part to finance cuts lower down the income scale. The move brings rates in some provinces into the global stratosphere of the world's highest top marginal tax rates. For those earning C$220,000 or more in Ontario, the top rate rises to 53.5 percent. In Quebec, the top rate rises to 53.1 percent at or above C$200,000.
According to 2014 OECD tax revenue statistics, only a handful of countries that year had top tax rates of 54 percent or more, including Sweden, Denmark and France.
C$482 Billion
That's the amount Canadian non-financial companies hold in currency and deposits, according to the latest data from Statistics Canada. It's a record amount both in absolute terms and as a share of total assets -- more than 8 percent.
While companies holding back is a source of economic weakness, the vast amounts of ready-to-invest capital is also one of the main reasons Poloz remains optimistic about the nation's prospects once what he calls "animal spirits" are revived.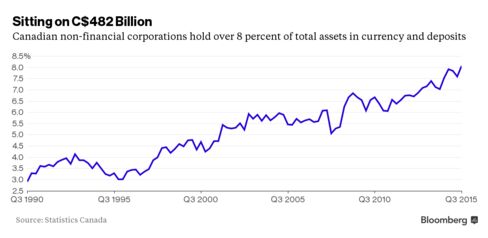 10%
What will bring out Canada's inner corporate animal is export growth, and there is some good news on this front.
While earnings from resource shipments tumble, exports from the country's five crucial manufacturing sectors -- industrial machinery, electronics, motor vehicles, aircraft and consumer goods -- each grew at a pace exceeding 10 percent last year through October. If that held up through the last two months of 2015, it would mark the first time since 1995 all five sectors posted double digit growth rates in the same year. It would be an important development. In the late 1990s, during the tail-end of the previous Canadian dollar relapse, their combined share of total exports reached 58 percent.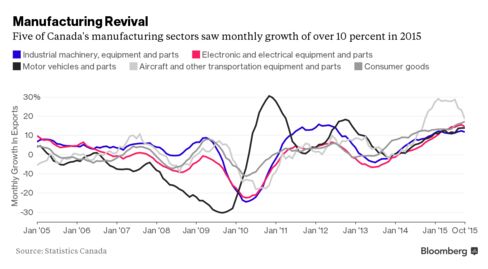 3rd Largest
The biggest victim of the oil price collapse has been Alberta, where most of the country's oil comes from. Alberta's economy probably shrank by 1 percent in 2015, economists surveyed by Bloomberg predict, marking the first year since 1986 the province produced less in the face of rising output in the rest of the country.
It was a good run though. For the first time in Canada's history, Alberta in 2014 surpassed Quebec as Canada's second largest provincial economy, generating about C$6 billion more in output that year. It will be back in third place by 2016.
Before it's here, it's on the Bloomberg Terminal.
LEARN MORE